10 + 1 Fun facts about Che Guevara
Little Ernesto in 1929. Signing Che
The famous portrait of
Che Guevara during a memorial dedicated to the victims of the explosion of La Coubre
The full name of Che Guevara was Ernesto Rafael
Guevara de la Serna.
Che Guevara was born on June 14, 1928 in the Argentine city of Rosario, province of Santa Fe Ernesto was the eldest of five children of the couple Ernesto Lynch and Celia de la Serna y Llosa.
Celia was the first person to instill political ideals of his son's head.
Ernesto was nicknamed by his parents Ernestito, to distinguish him from his father, after Tete.
When Che Guevara was born, his father said: "The blood that flows in the veins of my son is in the same vein that runs the Irish rebels."
Che in 1945, aged 17.
As a young man, he was known as "Chancho" which means pig. Che was given this nickname because he was not very fond of bathing. Che suffered from asthma from an early age. At age 12, his family moved to the mountains of Cordoba, Argentina. The air there favored breathing boy.
Che em 1958.
The revolutionary largely attended elementary school at home with his mother. His family kept a library of about 3,000 titles. In 1947, motivated by his illness, the boy entered the Faculty of Medicine, University of Buenos Aires.
Che and his friend Alberto Granado decided to make a trip to visit Latin America in 1952. The two traveled about 10,000 kilometers on a motorcycle Norton 500. Despite the name La Poderosa, the Norton 500 cc motorcycle only endured the trip to Chile.

In 2004, it launched the film "The Motorcycle Diaries," based on the writings of Che during this trip. He had a mania for writing journals. His trip to South America has been faithfully recounted in the diaries. Moreover, Guevara remained in the habit of writing daily until his last days.
Che Guevara in Moscow
When he returned to Argentina, Che was drafted into the army of the country. As I did not agree with the political ideologies of Perón, the boy took a cold shower before the medical examination and during the examination, had an asthma attack. He was deemed unfit for the army, and was discharged.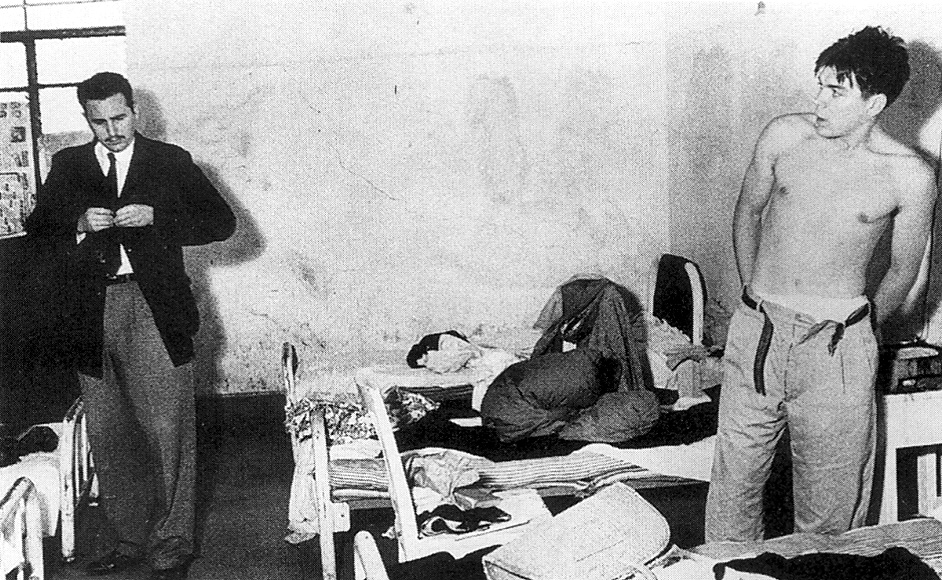 Che and Fidel Castro in Mexico City
In 1954, while teaching at a university and worked in the General Hospital of Mexico City, through Ñico Lopez, a friend of the struggles in Guatemala, he knows Raúl Castro who had taken refuge in Mexico after a failed attempt at revolution in Cuba. Shortly after, Raúl introduced Guevara to his brother Fidel. Che and Fidel became great friends.
Castro (far left), Che Guevara (center), and other leading revolutionaries, marching through the streets in protest of the La Coubre explosion, 5 March 1960.
The nickname "Che" emerged in Mexico, because the doctor was wont to say "che" for all people. Che is a slang.
In addition to exercising the function of a physician, Che also worked as a journalist and photographer. It was also a volunteer of the Pan American Games in 1955 in Mexico City.
8.
Na Sierra Maestra com Raúl Castro.
In 1956, troops commanded by Fidel landed in Cuba and took refuge in the Sierra Maestra, where he commanded the guerrilla war against dictator Fulgencio Batista.
But after arriving in Cuba, Che was seriously wounded in the neck by the troops of Fulgencio Batista. Guevara is one of 72 men leaving for Cuba in 1956 with Fidel Castro and of which only 12 survive.
Pico Torquino in the Sierra Maestra, Cuba's highest mountain, 1974 meters
The guerrillas won and, in 1959, Fidel took power and appointed Che Cuban citizen, making it one of the main leaders of the new Cuban state: Ambassador, President of the National Bank, Minister of Industry.
Even when he was minister, Che used to devote to volunteer work. He came to harvest cane sugar with the people.
Che also fought in the Belgian Congo in Africa.
School of La Higuera, where Che Guevara was killed.
Em 1966, Che arrived in Bolivia disguised as a Uruguayan economist. He went to the country to train a new group of guerrillas for a continental revolution. On October 8, 1967, Che Guevara was captured by the Bolivian army. The next day, he was nine shots executed by order of the Bolivian president, General Rene Barrientos. He died at age 39. Che had five children: Hildita, Aleidita, Camilo, Celia and Ernesto.
Che Guevara, a family man, with his first wife, Hilda Gadea, had a daughter (Hildita) who was born in Mexico City on February 15, 1956, and four children he had with his second wife, Aleida March.
The only remains of Che were found about 30 years after his death, the Bolivian town of Vallegrande. Taken to Cuba, were indentificados through DNA and today rests in a mausoleum built in his honor. His body lies in Guevara mausoleum in Santa Clara, Villa Clara province.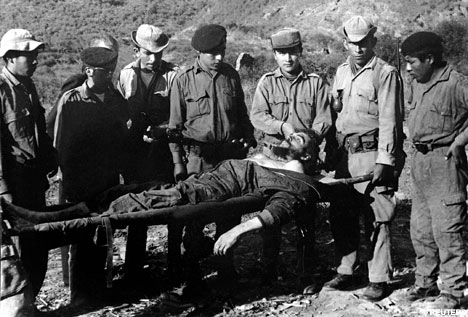 In the version of an alleged CIA agent who helped bury Che Guevara, his hands were removed by a doctor, enbebidas in formalin and sent to Argentina in order to be collected fingerprints. But curiously, the remains now rest in Cuba that has hands.
11. The portrait of Guevara's "the most famous photograph in the world and a symbol of the twentieth century" and is also the most reproduced image in the history of photography.
Che Guevara (photo by Alberto Korda titled Heroic Guerrilla)
The image of "Che Guevarra" (the most played in the history) was made by Cuban photographer Alberto Korda on March 5, 1960 during a tribute to those killed in an explosion in Havana. At the time, he thought the photo was taken so well that hung on his wall until an Italian journalist saw her and asked if she could stay with her. Korda let him lead.
The photograph was not published internationally seven years after it was taken. According to Korda, Guevara showed "absolute immobility", "anger" and "pain" at the time the photograph was taken. Years later, Korda said his portrait captured whole "character, fortitude, stoicism and determination" that Guevara had. Guevara was 31 years old when the picture was taken.
This same image was used for making shirts, hats, posters, tattoos. Ironically icon Che Guevara was inserted exactly in the consumer culture he despised.