10 Best Cities to celebration the New Year (2012/2013)
New Years Eve is celebrated world-wide by all people, regardless of their nationality and religion. We are all waiting for this special night and carefully preparing for it. Many people even believe that a fulfillment of an upcoming year depends on how you spend your New Years Eve. If it is full of joy and happiness, then a new year will be full of joy and happiness and vice versa. Many people like to stay at home with their families and friends. Others like to travel - some to ski resorts, some to exotic islands, some to a new city. And if you finally want to visit a city you always wanted to visit, New Years Eve is a perfect time to do so. That is a magical time when all of the cities around the world are more gloriously alive than they usually are.

NOTE: The numbering of the list depends on the taste of each. Example, if you prefer to celebrate in the harsh winter in the northern hemisphere or in a tropical climate and warm southern hemisphere.
10. Times Square Ball Drop,
New York, U.S.
Join hundreds of thousands of people at Times Square to witness the famous ball drop. For more than hundred years, New York City's Times Square has been the center of the universe on New Years Eve. Millions people all over the world hold their breath watching Times Square on New Years Eve and waiting to see Waterford Crystal New Year's Eve Ball descending from the flagpole atop One Times Square building. If you want to be at Times Square for the lowering of the Ball ceremony, wear warm clothes and arrive earlier - people start gathering on the Square at 3 pm on New Years Eve. If you want to witness the ceremony in a more comfortable atmosphere, there are several hotels at Times Square with a great view of the Square. The festivities continue after midnight with remarkable fireworks around the city. For more romantic New Years Eve celebration, New York City offers superb dining, special parties and New Years Eve cruises.
Probably less what do at this day in the city are New Yorkers, as they tend to "run" a bit of confusion, because it is well known, but the party is guaranteed.
9. Las Vegas New Years Eve Fireworks
, U.S.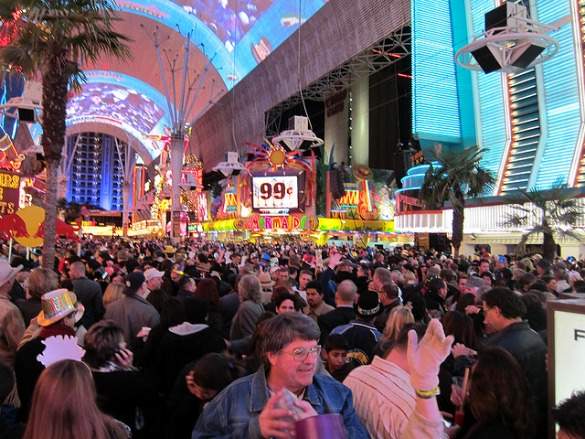 Enjoy New Years dinner in Paris, ring in the New Year in New York and have a great New Years party in Venice - you can do all of it during one New Years Eve in Vegas! A huge party on the Las Vegas Strip, tremendous fireworks over the hotels, light and sound shows at the Fremont Experience, best entertainers in the showrooms and great parties in the clubs - on New Years Eve Las Vegas is even more alive than you've ever seen it. With Las Vegas New Years Eve being the busiest night of the year, clubs and restaurant tables fill up fast, therefore make your reservations in advance.
8. Niagara Falls, Ontario, Canada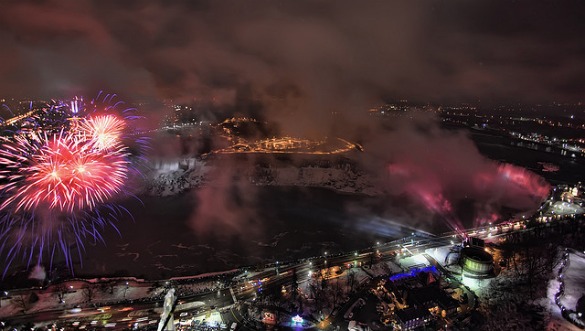 A unique celebration completely different from any other on this list has Canadian revelers celebrating amidst the gorgeous scenery of the famous Niagara Falls. So much goes on at Queen Victoria Park that it makes this one of the busiest nights of the year at Niagara. Live music, two rounds of fireworks (at 9pm if you want to bring little ones and the obligatory midnight display), and 30,000 of your closest friends will ring in the New Year in style. And the best part of this whole party? It´s absolutely free.
The festivities kick off at 8pm at Queen Victoria Park with the aforementioned live music. If freezing outside in Canada isn´t on your list of ways to celebrate the New Year, keep in mind that there are plenty of options in the area. Casino Niagara and Niagara Fallsview Casino Resort offer entertainment for those in the mood for a more adult atmosphere, and families not wanting to brave the crowds at Queen Victoria Park might have a better time at Clifton Hill, an amusement park of sorts offering plenty of activities for everyone. The Niagara Skywheel, a Dinosaur Park, and glow in the dark mini-golf are just a smattering of activities on offer at Clifton Hill. Come celebrate in a way that may not be typical of New Year´s Eve celebrations but is sure to be memorable.
7. Rio de Janeiro, Brazil
Rio is known as one of the party capitals of the world, so you know what you´re getting into if celebrating the New Year in Brazil. Like Sydney, you´ll find yourself in the middle of summer here in Rio, so beach parties, bikinis, and swim suits could be the norm for the night, depending on your preferred party location. While other cities on this list offer a myriad of entertainment options, if you´re going to Rio, you´re going to dance and party with some of the best in the business' Brazilians. These people know how to spend a night out, so attending the city´s second biggest annual party (after Carnivale) will have you boogying the night away on the beach.
Like many things in Rio de Janeiro, it begins and ends on Copacabana beach. Party central is located up and down this famous beach, with all different genres of music and plenty of activities to keep you up and dancing all night long. This decade is an important one for Brazil as they will be the center of the world by hosting both the World Cup (2014) and the Olympics (2016), and they will be celebrating their national pride by dubbing this the '"Golden Decade". Rio will surely be a fantastic, rowdy, fun, and unique in 2013.
6. Cabalgata de los Reyes Magos, Barcelona, Spain
Ring in the New Year Spanish style by participating in Noche Vieja in Barcelona. From ballroom dance to salsa to flamenco to rock band performances - music, dance and parties are all over the city and festivities last for as long as a week. At midnight, when a great clock strikes twelve, experience old Spanish tradition of eating 12 grapes, one grape following each bell sound. This custom goes back to the Roman Empire and symbolizes passing the sweet flavor of grapes towards the New Year so it began sweetly. If you stay in Barcelona till January 5, then you have a chance to participate in Cabalgata de los Reyes Magos (Three Kings Parade). The Three Kings arrive by boat at the waterfront of Barcelona and proceed slowly through the city throwing barley sugar sweets to the children lining the route.
And although the country is experiencing a financial crisis with some cuts this party millennial traditions are maintained.
5. Paris New Years Eve
, France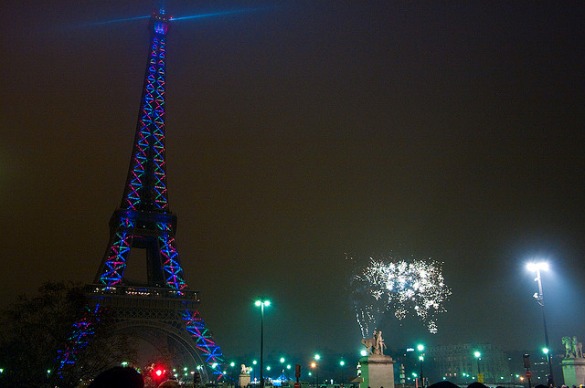 Paris offer many ways to say Bonne Annee for Parisians and tourists. From top-notch dining to clubbing to fantastic fireworks to a glass of Champagne on the Champs-Elysees - New Years Eve in Paris is unforgettable. The place to start celebration is the Champs-Elysees. Around 9 p.m. people start to gather at the famous street and around midnight here you can watch the Eiffel Tower exploding into a sparkling dance of light and toast Happy New Year with a flute of Champagne. The Sacre Coeur in Montmartre, being one of the best viewpoints in Paris, is another fantastic place to ring in the New Year. With spectacular views of the entire Paris skyline, at midnight here you can see all fireworks launched around Paris.
4. London New Years Fireworks
, UK
London is welcoming travelers to celebrate New Years with astonishing fireworks launched into the sky off the 135 meter London Eye, projecting a light show throughout the city. The fireworks can be seen from rooftops and balconies all across London, but best views of the fireworks are from Westminster Bridge and the north embankment of the River Thames, opposite the London Eye. The show starts after Big Ben chimes midnight and lasts for 15 minutes. You also can take a river cruise for better views of the fireworks and more romantic way bring in the New Year. Endless number of London pubs, clubs and restaurant are open well into New Years night across the capital with special parties and entertainment. If you are a theater lover, then for you London offers great stage shows for New Years Eve, where you have a chance to celebrate New Years with the theater cast and crew.
Celebrate La Festa di San Silvestro (the holiday that is celebrated in Italy on December 31st) and Il Capodanno (on January 1st) Venetian style: enjoying several course of fantastic Italian meal in a local restaurant, drinking prosecco and joining the masked throng in St Mark's Square for midnight, where the bell of St. Mark's campanile announces the beginning of a new year. The celebration goes on with professional fireworks display along the waterfront. Parties around the town last until sunrise, so you can witness the first sunrise of the newborn year. Don't forget to wear your red underwear for New Years Eve! Italians say it'll bring you luck in the coming year.
And although there are works to contain waters just across town, the city ensures a New Year unlike any other. It's good to get those overshoes, because for sure it will celebrate in streets flooded this time of year.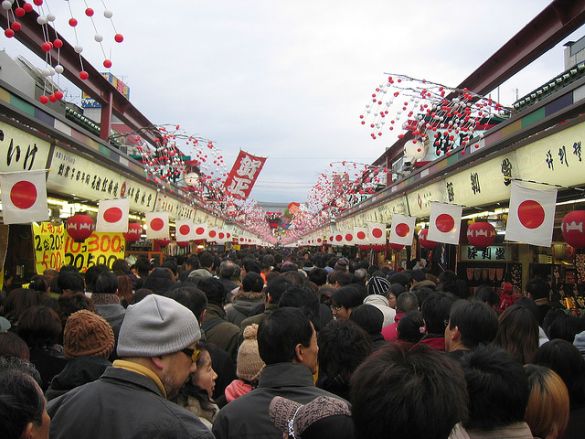 If you want to start celebrating the New Year earlier, go to Tokyo, where the celebration starts on the 29th of December. Here, you also have a chance to prolong your New Years celebration up to January 4th. Even though most of the major tourist sites close down for that week, the streets of Tokyo, as well as, all restaurants and clubs are packed with people. The city is jumping with loads of fireworks, dancing and singing. Join locals and enter the New Year in traditional Japanese way: eating Toshikoshi Soba (New Years Eve Noodle) and listening to Juya No Kane (The Watch-Night Bell). The noodle, being long, symbolizes long and healthy life. The Watch-Night Bell, an analog to a countdown, rings 108 times at the temples all over Japan symbolizing getting rid of unhappiness, poorness and etc. On January 1st, visit the Imperial Palace, since it is one of the two days only when the Palace opens to the public.
1. Sydney Harbour Fireworks, Australia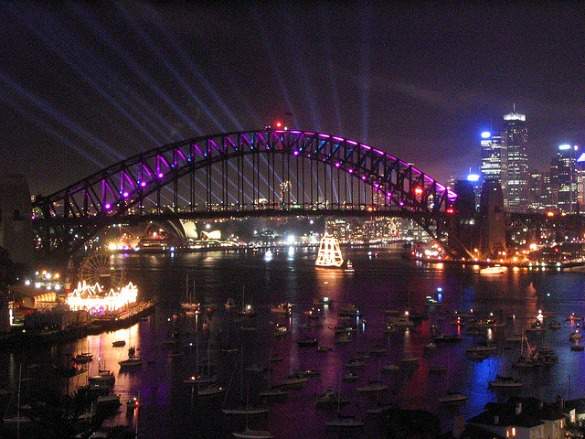 To be one of the first in the world to ring in the New Year, go to Sydney. Here, you can witness absolutely stunning fireworks accompanied by music exploding over the Sidney Harbour Bridge, the magnificent center piece of beautiful Sydney Harbour. More than a million people gather around Sydney Harbour for Midnight Fireworks, countdown and party. There are plenty of vantage points around the harbour, but probably best views of fireworks and all the New Years action are from one of the boats in the harbour. What can be better than to party on a boat at New Years Eve wearing shorts and flip flops? Don't forget to book your place on board in advance!