10 Fastest Men at the Marathon (2014)
The marathon is a long-distance running event with an official distance of 42.195 kilometres (26 miles and 385 yards), that is usually run as a road race. The event was instituted in commemoration of the fabled run of the Greek soldier Pheidippides, a messenger from the Battle of Marathon, to Athens.

The marathon was one of the original modern Olympic events in 1896, though the distance did not become standardized until 1921. More than 500 marathons are held throughout the world each year, with the vast majority of competitors being recreational athletes. Smaller marathons, such as the Stanley Marathon, can have just dozens of participants, while larger marathons can have tens of thousands of participants.
1. Dennis Kimetto - Kenya

2:02.57
28 September 2014
Berlin
2. Emmanuel Mutai, Kenia

2:03:13
28 September 2014
Berlin
3. Patrick Makau - Kenya

2h03:38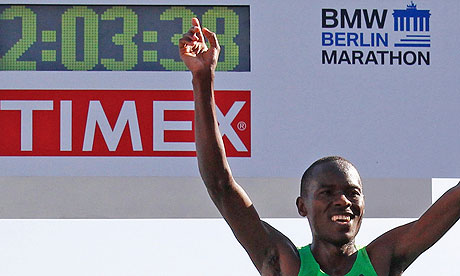 25 September 2011
Berlin
4. Wilson Kipsang - Kenya
2h03:42
Frankfurt
5. Haile Gebrselassie - Ethiopia
2h03:59
Berlin



6. Geoffrey Mutai - Kenya
2h04:15
Berlin



7. Dennis Kimetto - Kenya
2h04:16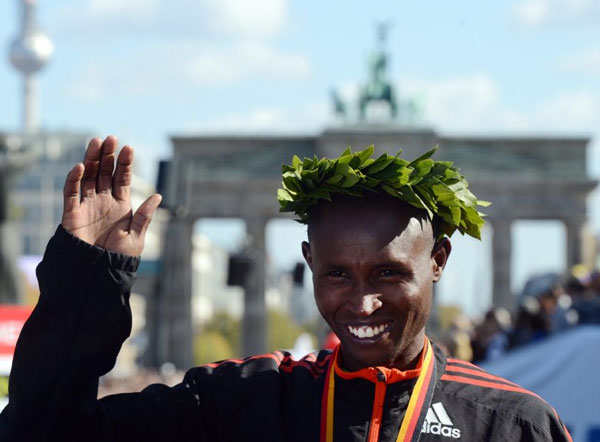 Berlin



8. Ayele Abshero - Ethiopia
2h04:23
Dubai



9. Duncan Kibet - Kenya
2h04:27
Rotterdam



10. James Kwambai - Kenya
2h04:27
Rotterdam

11. Tsegaye Kebede - Ethiopia 2h04:38
Chicago

12. Emmanuel Mutai - Kenya 2h04:40
London



Source:

iaaf.org (
International Association of Athletics Federations)