10 + 2 Biggest Clock faces in the World
A clock face, dial, is the part of an analog clock (or watch) that displays the time through the use of a fixed-numbered dial or dials and moving hands. In its most basic form, recognized universally throughout the world, the periphery of the dial is numbered 1 through 12 indicating the hours in a 12-hour cycle, and a short hour hand makes two revolutions in a day. A longer minute hand makes one revolution every hour. The face may also include a seconds hand which makes one revolution per minute. The term is less commonly used for the time display on digital clocks and watches.
1.
Abraj Al Bait
Abraj Al Bait Towers clock in Mecca, Saudi Arabia, is a 43-metre diameter clock built on this 601-metre hotel tower in front of the Ka'ba.
2.
Cevahir Mall Clock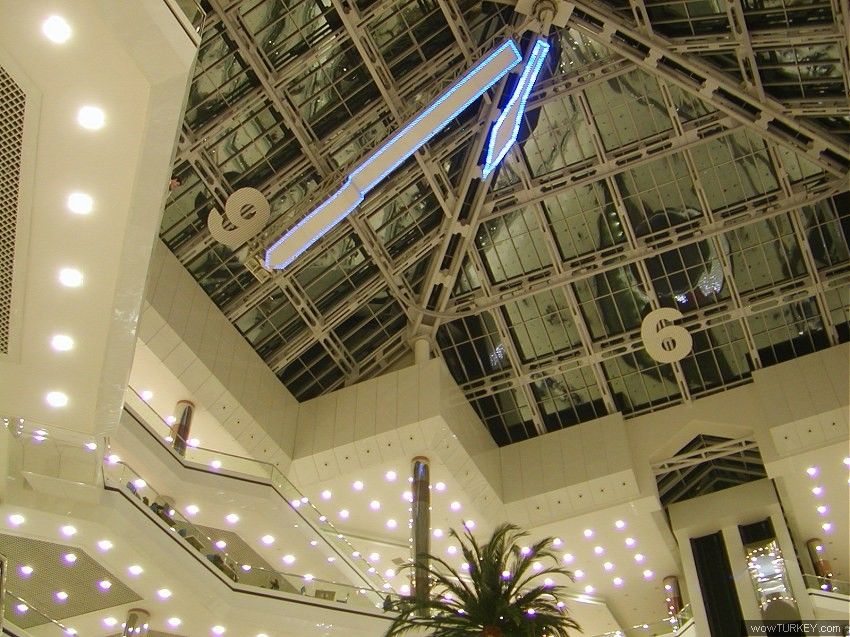 Cevahir Mall clock in Istanbul, a 36 metre clock with 3 metre high digits laid on the transparent roof of the mall, built in 2005.
3. Duquesne Brewing Company Clock
Duquesne Brewing Company Clock, Pittsburgh, a single
18 metre octogonal clock
built by Audichron of Atlanta, GA, in 1933, with
8.5 metre
and 6.4 metre aluminium hands.
Note:
The landmark clock over the old Duquesne Brewery at 21st and Mary streets, South Side, has a new sponsor. AT&T has bought the rights to advertise on the clock's face.
4.
Colgate Clock New Jersey
Colgate Clock (New Jersey), a 15.2 metre clock Built in 1924 in New Jersey to replace the old Colgate Clock, which was moved to Indiana.
5. Tehran
Flower Clock
Flower clock Tehran in Iran, a 15 metre flower clock. It weighs in at 750 kg, and was installed on 7 June 2005.
6.
Grozny-City Towers Facade Clocks
Construction of Clock
Grozny-City Towers Facade Clocks, Grozny, City, Chechnya-Russia, is a
13,6 meter diameter
, 2 pieces Clocks built on 140 meter height and placed Northwest and Southeast side of the highest Grozny City Tower. The clocks are built in September 2011 by Erben Kontrol/ Turkey with 7,30 m and 5,55 m pair of hands.
7.
Allen Bradley Clock Tower
Allen-Bradley Clock Tower, four 12.25 meters clocks on a 86 metre tower started keeping time on October 31, 1962, biggest four-faced clock. Each hour hand is 4.8 m long and weighs 220 kg. Each minute hand is 6.1 m long and weighs 240 kg. The hour markings are 1.2 m high.
8.
Colgate Clock Indiana
Colgate Clock (Indiana), 12 metre clock, built in 1906 in New Jersey for the centennial of the Colgate Company. Moved to Indiana in 1924.
9.
Floral Clock of Frankfort
The floral clock in Frankfort, Kentucky, a 34 feet (10 m) face with minute and hour hands that are 20 feet (6.1 m) and 15 feet (4.6 m) long, respectively. The clock face is composed of over 10,000 individual flowers.
10. Aarau Station Clock
The railway station clock of Aarau is
9 meters in diameter
. It is the biggest clock face in Europe. It behaves almost completely like a standard Swiss railway station clock.
11.
Moscow State University Clock
Clock on the main building of the Moscow State University is 9 metres in diameter. There are also a barometer and a thermometer of the same size.
12. St. Peter Clock
St. Peter, Zürich, a 8.7 meters clock, built in 1534, the biggest church clock face.
Source: wikipedia.org