10 More decorated soldiers on the Wars
Top 10 Heroes of Wars that maybe you've never heard.
You probably never stopped to think if there was ever a soldier with the potential of characters in action movies, those who run off with a machine gun in hand killing all his enemies, and no one can kill the bastard?
Soldiers listed here have a curriculum as powerful in real life, leaving Rambo and other riding clog during the war.
It pays to know the history of these brave heroes.
Audie Leon Murphy (June 20, 1925 – May 28, 1971) was one of the most famous and decorated American combat soldiers of World War II. He served in the European Theater of Operations where he was awarded the Medal of Honor and several other decorations for combat heroism including combat decorations from France and Belgium. Murphy became a celebrated Hollywood actor after the war for over two decades, appearing in 44 films, mostly westerns. He also had some success as a country music composer.
Murphy had long dreamed of joining the military. After the attack on Pearl Harbor on December 7, 1941, Murphy tried to enlist in the military, but the services rejected him because he was underage and only about 5' 5".
In June 1942, shortly after what he and his sister Corrine believed was his 17th birthday, Corrine adjusted his birth date so he appeared to be 18 and legally able to enlist. His war memoirs, To Hell and Back, maintained this misinformation, leading to later confusion and contradictory statements about his year of birth.
The 5 ft 5 inch (166 cm) and 110 pound (50 kg) Murphy tried once again to enlist, but was declined by both the Marines and Army paratroopers as too short and underweight. The Navy also turned him down for being underweight. The United States Army finally accepted him, and he was inducted at Greenville and sent to Camp Wolters, Texas for basic training. During a session of close order drill, he passed out. His company commander tried to have him transferred to a cook and bakers' school but Murphy insisted on becoming a combat soldier, and after 13 weeks of basic training, he was sent to Fort Meade, Maryland for advanced infantry training.
Murphy still had to "fight the system" to get overseas and into action. His persistence paid off, and in early 1943 he was shipped out to Casablanca, Morocco as a replacement in 3rd Platoon, Baker Company, 1st Battalion, 15th Infantry Regiment, 3rd Infantry Division. Murphy saw no action in Africa, but instead participated in extensive training maneuvers along with the rest of the 3rd Infantry Division. His combat initiation finally came when he took part in the invasion of Sicily on July 10, 1943. Shortly after arriving, Murphy was promoted to corporal after killing two Italian officers as they tried to escape on horseback. He contracted malaria while in Sicily, an illness which put him in the hospital several times during his Army years.
After Sicily was secured from Axis forces, the 3rd Infantry Division invaded the Italian mainland, landing near Salerno in September 1943. While leading a night patrol, Murphy and his men ran into German soldiers but fought their way out of an ambush, taking cover in a quarry. The German command sent a squad of soldiers in, but they were stopped by intense machine-gun and rifle fire. Three German soldiers were killed and several others captured. As a result of his actions at Salerno, Murphy was promoted to sergeant.
He distinguished himself in action on many occasions while in Italy, fighting at the Volturno River, at the Anzio beachhead, and in the cold, wet Italian mountains. While in Italy, his skills as a combat infantryman earned him promotions and decorations for valor. Following its participation in the Italian campaign, the 3rd Infantry Division landed in Southern France on August 15, 1944 as part of Operation Dragoon. Shortly thereafter, Murphy's best friend, Lattie Tipton (referred to as "Brandon" in Murphy's book To Hell and Back), was killed by a German soldier in a machine gun nest who was feigning surrender. Murphy went into a rage and single-handedly wiped out the German machine gun crew which had just killed his friend. He then used the German machine gun and grenades to destroy several other nearby enemy positions. For this act, Murphy received the Distinguished Service Cross (second in precedence only to the Medal of Honor).
During seven weeks of fighting in that campaign in France, Murphy's division suffered 4,500 casualties. Just weeks later, he received two Silver Stars for further heroic actions. Murphy, by now a staff sergeant and holding the position of platoon sergeant, was eventually awarded a battlefield commission to second lieutenant, which elevated him to platoon leader. He was wounded in the hip by a sniper's ricocheting bullet 12 days after the promotion and spent ten weeks recuperating. Within days of returning to his unit, and still bandaged, he became company commander on January 25, 1945 and suffered further wounds from a mortar round which killed two others nearby.
For a time during the mid-1960s, he became dependent on doctor-prescribed sleeping pills called Placidyl. When he recognized that he had become addicted to the drug, he locked himself in a motel room where he took himself off the pills, going through withdrawal for a week.
Always an advocate of the needs of America's military veterans, Murphy eventually broke the taboo about publicly discussing war-related mental conditions. In an effort to draw attention to the problems of returning Korean and Vietnam War veterans, Murphy spoke out candidly about his own problems with PTSD, known then and during World War II as "battle fatigue". He called on the United States government to give increased consideration and study to the emotional impact that combat experiences have on veterans, and to extend health care benefits to address PTSD and other mental-health problems suffered by returning war veterans.
Alvin Cullum York (December 13, 1887 – September 2, 1964), known also by his nickname, Sergeant York, was one of the most decorated American soldiers in World War I. He received the Medal of Honor for leading an attack on a German machine gun nest, taking 32 machine guns, killing 28 German soldiers and capturing 132 others. This action occurred during the U.S.-led portion of the Meuse-Argonne Offensive in France, which was part of a broader Allied offensive masterminded by Marshal Ferdinand Foch to breach the Hindenburg line and make the opposing German forces surrender.
York enlisted in the United States Army and served in Company G, 328th Infantry Regiment, 82nd Infantry Division at Camp Gordon, Georgia. Deeply troubled by the conflict between his pacifism and his training for war, he spoke at length with his company commander, Captain Edward Courtney Bullock Danforth (1894 – 1973) of Augusta, Georgia and his battalion commander, Major Gonzalo Edward Buxton (1880 – 1949) of Providence, Rhode Island, a devout Christian himself. Citing Biblical passages about violence ("He that hath no sword, let him sell his cloak and buy one." "Render unto Caesar..." "... if my kingdom were of this world, then would my servants fight."), they forced York to reconsider the morality of his participation in the war. Granted a 10-day leave to visit home, he returned convinced that God meant for him to fight and would keep him safe, as committed to his new mission as he had been to pacifism.
During an attack by his battalion to capture German positions along the Decauville rail-line north of Chatel-Chéhéry, France, on October 8, 1918, York's actions earned him the Medal of Honor. He recalled:
The Germans got us, and they got us right smart. They just stopped us dead in our tracks. Their machine guns were up there on the heights overlooking us and well hidden, and we couldn't tell for certain where the terrible heavy fire was coming from... And I'm telling you they were shooting straight. Our boys just went down like the long grass before the mowing machine at home. Our attack just faded out... And there we were, lying down, about halfway across [the valley] and those German machine guns and big shells getting us hard.
Under the command of Sergeant Bernard Early, four non-commissioned officers, including recently promoted Cpl. York, and thirteen privates were ordered to infiltrate behind the German lines to take out the machine guns. The group worked their way behind the Germans and overran the headquarters of a German unit, capturing a large group of German soldiers who were preparing a counter-attack against the U.S. troops. Early's men were contending with the prisoners when machine gun fire suddenly peppered the area, killing six Americans: Corp. Murray Savage, and Pvts. Maryan E. Dymowski, Ralph E. Weiler, Fred Waring, William Wins and Walter E. Swanson, and wounding three others, Sgt. Early, Corp. William S. Cutting (aka Otis B. Merrithew), and Pvt. Mario Muzzi. The fire came from German machine guns on the ridge. The loss of the nine put Corporal York in charge of the seven remaining U.S. soldiers, Pvts. Joseph Kornacki, Percy Beardsley, Feodor Sok, Thomas G. Johnson, Michael A. Saccina, Patrick Donohue, and George W. Wills. As his men remained under cover, guarding the prisoners, York worked his way into position to silence the German machine guns.
York recalled:
"And those machine guns were spitting fire and cutting down the undergrowth all around me something awful. And the Germans were yelling orders. You never heard such a racket in all of your life. I didn't have time to dodge behind a tree or dive into the brush... As soon as the machine guns opened fire on me, I began to exchange shots with them. There were over thirty of them in continuous action, and all I could do was touch the Germans off just as fast as I could. I was sharp shooting... All the time I kept yelling at them to come down. I didn't want to kill any more than I had to. But it was they or I. And I was giving them the best I had".
During the assault, six German soldiers in a trench near York charged him with fixed bayonets. York had fired all the rounds in his M1917 Enfield rifle, but drew his 45 Colt automatic pistol and shot all six soldiers before they could reach him.
German First Lieutenant Paul Jürgen Vollmer, commander of the First Battalion, 120th Landwehr Infantry, emptied his pistol trying to kill York while he was contending with the machine guns. Failing to injure York, and seeing his mounting losses, he offered in English to surrender the unit to York, who accepted. By the end of the engagement, York and his seven men marched 132 German prisoners back to the American lines. His actions silenced the German machine guns and were responsible for enabling the 328th Infantry to renew its attack to capture the Decauville Railroad.
York was promptly promoted to Sergeant and awarded the Distinguished Service Cross for his heroism. A few months later, following a thorough investigation, he was awarded the Medal of Honor, presented to York by the commanding general of the American Expeditionary Force, General John J. Pershing. The French Republic awarded him the Croix de Guerre and the Legion of Honor. Italy awarded him its Croce di Guerra al Merito and Montenegro its War Medal. He eventually received nearly 50 decorations.
His Medal of Honor citation reads:
After his platoon suffered heavy casualties and 3 other noncommissioned officers had become casualties, Cpl. York assumed command. Fearlessly leading 7 men, he charged with great daring a machine gun nest which was pouring deadly and incessant fire upon his platoon. In this heroic feat the machine gun nest was taken, together with 4 officers and 128 men and several guns.
Of his deeds, York said to his division commander, General George B. Duncan, in 1919:
A higher power than man power guided and watched over me and told me what to do.
Lieutenant Colonel John Malcolm Thorpe Fleming "Jack" Churchill, DSO & Bar, MC & Bar (16 September 1906 – 8 March 1996), nicknamed Fighting Jack Churchill and Mad Jack, was a British soldier who fought throughout World War II armed with a longbow, arrows, and a Scottish broadsword. He is known for the motto "any officer who goes into action without his sword is improperly armed."
Churchill resumed his commission after Poland was invaded. In May 1940 Churchill and his unit, the Manchester Regiment, ambushed a German patrol near L'Epinette, France. Churchill gave the signal to attack by cutting down the enemy Feldwebel (sergeant) with his barbed arrows, becoming the only British soldier known to have felled an enemy with a longbow in WWII. After fighting at Dunkirk, he volunteered for the Commandos.
Churchill was second in command of No. 3 Commando in Operation Archery, a raid on the German garrison at Vågsøy, Norway on 27 December 1941. As the ramps fell on the first landing craft, Churchill leapt forward from his position and played a tune on his bagpipes, before throwing a grenade and running into battle in the bay. For his actions at Dunkirk and Vågsøy, Churchill received the Military Cross and Bar.
In July 1943, as commanding officer, he led 2 Commando from their landing site at Catania in Sicily with his trademark Scottish broadsword slung around his waist, a longbow and arrows around his neck and his bagpipes under his arm which he also did in the landings at Salerno. Leading 2 Commando, Churchill was ordered to capture a German observation post outside of the town of La Molina, controlling a pass leading down to the Salerno beach-head. He led the attack by 2 and 41 Commandos, infiltrated the town and captured the post, taking 42 prisoners including a mortar squad. Churchill led the men and prisoners back down the pass, with the wounded being carried on carts pushed by German prisoners. He commented that it was "an image from the Napoleonic Wars." He received the Distinguished Service Order for leading this action at Salerno.
In 1944 he led the Commandos in Yugoslavia, where they supported Josip Broz Tito's Partisans from the Adriatic island of Vis. In May he was ordered to raid the German held island of Brač. He organized a "motley army" of 1,500 Partisans, 43 Commando and one troop from 40 Commando for the raid. The landing was unopposed but on seeing the eyries from which they later encountered German fire, the Partisans decided to defer the attack until the following day. Churchill's bagpipes signalled the remaining Commandos to battle. After being strafed by an RAF Spitfire, Churchill decided to withdraw for the night and to re-launch the attack the following morning. The following morning, one flanking attack was launched by 43 Commando with Churchill leading the elements from 40 Commando. The Partisans remained at the landing area; only Churchill and six others managed to reach the objective. A mortar shell killed or wounded everyone but Churchill, who was playing "Will Ye No Come Back Again?" on his pipes as the Germans advanced. He was knocked unconscious by grenades and captured. He was later flown to Berlin for interrogation and then transferred to Sachsenhausen concentration camp.
Jack Churchill, leads a training exercise, sword in hand, from a Eureka boat in Inveraray.
In September 1944 Churchill and a Royal Air Force officer crawled under the wire, through an abandoned drain and attempted to walk to the Baltic coast. They were captured near the coastal city of Rostock, a few kilometres from the sea. In late April 1945 Churchill and about 140 other prominent concentration camp inmates were transferred to Tyrol, guarded by SS troops. A delegation of prisoners told senior German army officers they feared they would be executed. An army unit commanded by Captain Wichard von Alvensleben moved in to protect the prisoners. Outnumbered, the SS guards moved out, leaving the prisoners behind. The prisoners were released and after the departure of the Germans, Churchill walked 150 kilometres (93 mi) to Verona, Italy where he met an American armoured force.
As the Pacific War was still on, Churchill was sent to Burma, where the largest land battles against Japan were being fought. By the time Churchill reached India, Hiroshima and Nagasaki had been bombed and the war ended. Churchill was said to be unhappy with the sudden end of the war, saying: "If it wasn't for those damn Yanks, we could have kept the war going another 10 years.
4. Yogendra Singh Yadav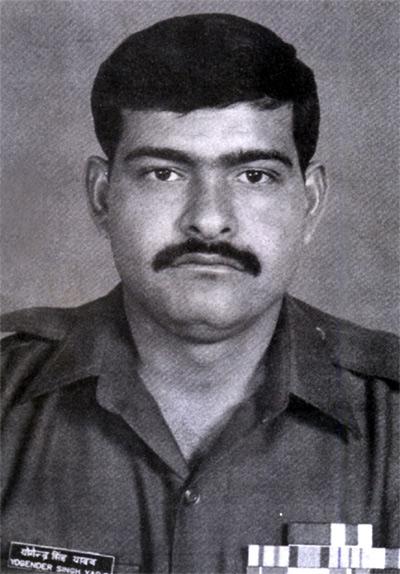 Naib Subedar Yogendra Singh Yadav PVC is a soldier in the Indian army. He was awarded the highest Indian military honour, Param Vir Chakra for his actions during the Kargil War on 4 July 1999.
Grenadier Yogendra Singh Yadav of the 18 Grenadiers was part of the Commando 'Ghatak' (Deadly or Lethal) Platoon tasked to capture three strategic bunkers on Tiger Hill in the early morning hours of 4 July 1999. The bunkers were situated at the top of a vertical, snow-covered, 16,500 foot high cliff face. Grenadier Yadav, volunteering to lead the assault, was climbing the cliff face and fixing the ropes for further assault on the feature. Halfway up, an enemy bunker opened up machine gun and rocket fire, killing the platoon commander and two others. In spite of having been hit by three bullets in his groin and shoulder, Yadav climbed the remaining 60 feet and reached the top. Though severely injured, he crawled to the first bunker and lobbed a grenade, killing four Pakistani soldiers and neutralizing enemy fire. This gave the rest of the platoon the opportunity to climb up the cliff face.
Yadav then charged the second bunker along with two of his fellow soldiers and engaged in hand-to-hand combat, killing four Pakistani soldiers. The platoon subsequently succeeded in capturing Tiger Hill. For his sustained display of bravery, Grenadier Yogendra Singh Yadav was awarded the Param Vir Chakra, India's highest medal for gallantry.
5. Simo Häyhä ("White Death")
Simo Häyhä December (17, 1905 – April 1, 2002), nicknamed "White Death" (Russian: Белая смерть, Belaya Smert; Finnish: valkoinen kuolema; Swedish: den vita döden) by the Red Army, was a Finnish sniper. Using a modified Mosin–Nagant in the Winter War, he has the highest recorded number of confirmed sniper kills – 505 – in any major war.
During the Winter War (1939–1940), between Finland and the Soviet Union, he began his duty as a sniper and fought for the Finnish Army against the Red Army in the 6th Company of JR 34 on the Kollaa River. In temperatures between −40 and −20 degrees Celsius, dressed completely in white camouflage, Häyhä was credited with 505 confirmed kills of Soviet soldiers. A daily account of the kills at Kollaa was conducted for the Finnish snipers. Remarkably, all of Häyhä's kills were accomplished in fewer than 100 days – in other words, an average of 5 kills per day – at a time of year with very short hours of daylight.
Häyhä used a Finnish militia variant of the Russian-made Mosin-Nagant rifle, the White Guard M/28-30 "Pystykorva" (literally Spitz, due to the sight's resemblance), because it suited his small frame (5 ft 3 in/1.60 m). He preferred to use iron sights rather than telescopic sights to present a smaller target (the sniper must raise his head higher when using a telescopic sight), for reliability (a telescopic sight's glass can fog up easily in cold weather) and for aid in concealment (sunlight glare in telescopic sight lenses can reveal a sniper's position).
The Soviets tried several ploys to get rid of him, including counter-snipers and artillery strikes. On March 6, 1940, Häyhä was shot in the lower left jaw by a Russian soldier during combat. The bullet tumbled upon impact and exited his head. He was picked up by fellow soldiers who said "half his head was missing", but he was not dead: he regained consciousness on March 13, the day peace was declared. Shortly after the war, Häyhä was promoted from Alikersantti (Corporal) to Vänrikki (Second Lieutenant) by Field Marshal Carl Gustaf Emil Mannerheim. No one else has gained rank so quickly in Finland's military history.
Havildar Bhanbhagta Gurung VC (Nepali, September 1921 – 1 March 2008), also known as Bhanbhakta Gurung, was a Nepalese recipient of the Victoria Cross, the highest and most prestigious award for gallantry in the face of the enemy that can be awarded to British and Commonwealth forces, awarded for his actions while serving as a Rifleman with the 3rd Battalion of the 2nd Gurkha Rifles in Burma during the Second World War.
Bhanbhagta Gurung was about 24 years old, and a Rifleman in the 3rd Battalion, 2nd Gurkha Rifles, British Indian Army when the following deed took place for which he was awarded the VC.
On 5 March 1945 at Snowdon-East, near Tamandu, Burma (now Myanmar), Gurung and his unit were approaching Snowdon-East. His company became pinned down by an enemy sniper and were suffering casualties. As the sniper was inflicting casualties on the section, Rifleman Bhanbhagta Gurung, being unable to fire from the lying position, stood up fully exposed to the heavy fire and calmly killed the enemy sniper with his rifle, thus saving his section from suffering further casualties.
The section advanced again but came under heavy fire once again. Without waiting for orders, Gurung dashed out to attack the first enemy fox-hole. Throwing two grenades, he killed the two occupants and without any hesitation rushed on to the next enemy fox-hole and killed the Japanese in it with his bayonet. He cleared two further fox-holes with bayonet and grenades. "During his single-handed attacks on these four enemy fox-holes, Rifleman Bhanbhagta Gurung was subjected to almost continuous and point-blank Light Machine Gun fire from a bunker on the North tip of the objective." For the fifth time, Gurung "went forward alone in the face of heavy enemy fire to knock out this position. He doubled forward and leapt on to the roof of the bunker from where, his hand grenades being finished, he flung two No. 77 smoke grenades into the bunker slit." Gurung killed two Japanese soldiers who ran out of the bunker with his Kukri, and then advanced into the cramped bunker and killed the remaining Japanese soldier.
Gurung ordered three others to take up positions in the bunker. "The enemy counter-attack followed soon after, but under Rifleman Bhanbhagta Gurung's command the small party inside the bunker repelled it with heavy loss to the enemy. Rifleman Bhanbhagta Gurung showed outstanding bravery and a complete disregard for his own safety. His courageous clearing of five enemy positions single-handed was in itself decisive in capturing the objective and his inspiring example to the rest of the Company contributed to the speedy consolidation of this success."
Thomas Alfred Jones VC DCM (25 December 1880 – 30 January 1956) was an English recipient of the Victoria Cross, the highest award for gallantry in the face of the enemy awarded to British and Commonwealth forces.
Jones was born in Runcorn, Cheshire, on 25 December 1880, and was a private in the 1st Battalion, The Cheshire Regiment, British Army during the First World War. He was known affectionately locally as 'Todger' Jones.
On 25 September 1916, during the Battle of Morval, Jones performed an act of bravery for which he was awarded the Victoria Cross. He was with his company covering the advance in front of a village, when he noticed an enemy sniper 200 yards (183 m) away. He left his trench on his own, and crossed no man's land without covering fire. Although one bullet went through his helmet and another through his coat, he returned the sniper's fire and killed him. Near the enemy trench, he saw two more Germans firing on him while simultaneously displaying a white flag. Jones shot them both. Upon reaching the enemy trench, he found several occupied dug-outs and single-handedly disarmed 102 Germans. Three or four were officers, and the entire trench was taken by Jones and his comrades.
George Albert Cairns VC (12 December 1913 – 19 March 1944) was an English recipient of the Victoria Cross, the highest and most prestigious award for gallantry in the face of the enemy that can be awarded to British and Commonwealth forces.
On the evening of 16 March 1944, the South Staffords dug in near what would become a main hinge of the Chindit operation, the block at Henu and Mawlu, known as the White City. A nearby hill crowned with a Pagoda dominated the horizon. It was not occupied by the British or, so far as those present could tell, by the Japanese. The following morning a number of unsuspecting Japanese soldiers were discovered in the area. It was plain that the South Staffords had dug in their positions adjacent to a small Japanese force without either learning of the other's presence. At about 11:00am, the hill erupted with enemy fire.
Calvert, who led the attack in person, wrote "On the top of Pagoda Hill, not much bigger than two tennis courts, an amazing scene developed. The small white Pagoda was in the centre of the hill. Between that and the slopes which came up was a mêlée of South Staffords and Japanese bayonetting, fighting with each other, with some Japanese just throwing grenades from the flanks into the mêlée." Calvert added, "there, at the top of the hill, about fifty yards square, an extraordinary mêlée took place, everyone shooting, bayoneting, kicking at everyone else, rather like an officers' guest night."
During the attack Cairns was attacked by a Japanese officer who with his sword hacked off the lieutenant's left arm. Cairns killed the officer and retrieved the fallen sword before wounding several other Japanese. He subsequently collapsed and perished the following day. Calvert wrote, "[i]n front I saw Lieut. Cairns have his harm hacked off by a Jap, whom he shot. He picked up the sword and carried on. Finally we drive them back behind the Pagoda.
Corporal Léo Major (1921 – 12 October 2008) was a French Canadian soldier in the Régiment de la Chaudière in World War II. He was one of only three Canadian soldiers in the British Commonwealth to be awarded the Distinguished Conduct Medal (DCM), the only Canadian to have been awarded the honour twice (bar to the DCM), and the only Allied soldier to be awarded two DCMs in two different wars (World War II and Korea).
On the night of 13 April 1945, Major single-handedly liberated the city of Zwolle in the Netherlands from German army occupation. This action earned him his first Distinguished Conduct Medal. He received his second DCM during the Korean War for leading the capture of a key hill.
He died in Montreal on 12 October 2008.
During a reconnaissance mission on D-Day, Major captured a German armoured vehicle (a Hanomag) by himself. The vehicle contained German communication equipment and secret German Army codes.
Days later, during his first encounter with an SS patrol, he killed four soldiers; however, one of them managed to ignite a phosphorus grenade. After the resulting explosion, Major lost one eye. He refused to be evacuated.
He continued his service as a scout and a sniper by insisting that he needed only one eye to sight his weapon. According to him, he "looked like a pirate."
Hans-Ulrich Rudel (2 July 1916 – 18 December 1982) was a Stuka dive-bomber pilot during World War II. The most highly decorated German serviceman of the war, Rudel was one of only 27 military men to be awarded the Knight's Cross of the Iron Cross with Oak Leaves, Swords and Diamonds, and the only person to be awarded the Knight's Cross of the Iron Cross with Golden Oak Leaves, Swords and Diamonds (Ritterkreuz des Eisernen Kreuzes mit goldenem Eichenlaub, Schwertern und Brillanten), Germany's highest military decoration.
Rudel flew 2,530 combat missions claiming a total of 2,000 targets destroyed; including 800 vehicles, 519 tanks, 150 artillery pieces, 70 landing craft, nine aircraft, 4 armored trains, several bridges, a destroyer, two cruisers, and the Soviet battleship Marat.
During the Polish Campaign at the start of World War II, he flew (as an observer) on long-range reconnaissance missions over Poland from Breslau. Rudel earned the Iron Cross 2nd Class on 11 October 1939. After a number of requests he was reassigned to dive bombing, joining an Aviation Training Regiment at Crailsheim and then he was assigned to his previous unit, I./Sturzkampfgeschwader 3 (StG 3),[Note 2] at Caen in May 1940. He spent the Battle of Britain as an Oberleutnant (First Lieutenant) in a non-combat role. Still regarded as a poor pilot, he was sent to a Reserve Flight at Graz for dive bombing training. Assigned to I./Sturzkampfgeschwader 2 (StG 2), based at Molaoi, his poor reputation, by then unjustified, preceded him and he also spent the invasion of Crete in a non-combat role.
Ju 87 G-2 "Kanonenvogel" with its twin Bordkanone BK 3.7, 37 mm guns.
Rudel flew his first four combat missions on 23 June 1941, during the German invasion of the Soviet Union. His demonstrated piloting skills earned him the Iron Cross 1st Class on 18 July 1941. On 23 September 1941, he and another Stuka pilot sank the Soviet battleship Marat, during an air attack on Kronstadt harbor in the Leningrad area, with hits to the bow using 1,000 kg bombs.[3] By the end of December, he had flown his 400th mission and in January 1942 received the Knight's Cross of the Iron Cross. On 10 February 1943, he became the first pilot in history to fly 1,000 sorties. Around this time he also started flying anti-tank operations with the 'Kanonenvogel', or G, version of the Ju-87, through the Battle of Kursk, and into the autumn of 1943, claiming 100 tanks destroyed.
By March 1944, he was already Gruppenkommandeur (group commander) of III./StG 2 (appointed on 19 July 1943) and had reached 1,800 operations. At that time he claimed 202 tanks destroyed.
On 13 March 1944 Rudel may have been involved in aerial combat with the Hero of the Soviet Union, Lev Shestakov. Shestakov failed to return from this mission and was posted as missing in action. From Rudel's memoirs:
Was he shot down by Gadermann [Rudel's rear gunner], or did he go down because of the backwash from my engine during these tight turns? It doesn't matter. My headphones suddenly exploded in confused screams from the Russian radio; the Russians have observed what happened and something special seems to have happened... From the Russian radio-messages, we discover that this was a very famous Soviet fighter pilot, more than once appointed as Hero of the Soviet Union. I should give him credit: he was a good pilot.
In November 1944, he was wounded in the thigh and flew subsequent missions with his leg in a plaster cast.
On 8 February 1945, a 40 mm shell hit his aircraft. He was badly wounded in the right foot and crash landed inside German lines. His life was saved by his observer Ernst Gadermann who stemmed the bleeding, but Rudel's leg was amputated below the knee. He returned to operations on 25 March 1945, claiming 26 more tanks destroyed before the end of the war. Determined not to fall into Soviet hands, he led three Ju 87s and four FW 190s westward from Bohemia in a 2-hour flight. Landing at Kitzingen airfield, held by the US 405th Fighter Group, Rudel had his men lock the brakes and collapse the landing gear to make the aircraft useless to the Americans and to render the airfield unusable by blocking the airstrip. Then he surrendered to U.S. forces, on 8 May 1945.
Eleven months in prisoner of war camps followed. Released by the Americans, he moved to Argentina in 1948.