10 Largest Fixed Satellite Operators (Private)
The following is a list of the world's largest fixed service satellite operators in the world.
Note: By volume of revenue
.
"No are Government Space Agencies".
1
. Intelsat,
Luxembourg
Satellites in Orbit: 59
Satellites on Order: 8
under construction. (2012)
INTELSAT VI F3 sperates from Shuttle after repair.

Intelsat, Ltd. is a communications satellite services provider.

Originally formed as International Telecommunications Satellite Organization (INTELSAT), it was—from 1964 to 2001—an intergovernmental consortium owning and managing a constellation of communications satellites providing international broadcast services.

As of March 2011, Intelsat operates a fleet of 52 communications satellites, which is the world's largest fleet of commercial satellites.

2. SES,

Luxembourg
Satellites in Orbit: 52
Satellites on Order: 6
SES S.A. is the world's second-largest telecommunications satellite operator by revenue and operates a fleet of 52 geostationary satellites able to reach 99% of the World's population. These satellites provide satellite communication services to businesses and government agencies, and broadcast TV and radio channels to audiences worldwide. As of the end of 2011 SES satellites carry over 5,200 TV channels (including over 1200 in high definition), more than 1000 radio stations, and 44 direct-to-home (DTH) platforms across the world.

Originally founded in 1985 as Société Européenne des Satellites, the company was renamed SES Global in 2001 and in 2006 reverted to SES.

SES is one of the global market leaders of satellite communications services and a pioneer in many important industry developments. SES pioneered DTH transmission, free-to-air broadcast neighbourhoods and co-location of satellites, digital broadcasting, and HDTV. In 2007 SES was named 'Satellite Operator of the Year' and CEO, Romain Bausch is the recipient of honours including 'Satellite Executive of the Year' in 2002.

3. Eutelsat,

France
Satellites in Orbit: 30
Satellites on Order: 5
Eutelsat S.A. is a French-based satellite provider. Providing coverage over the entire European continent, as well as the Middle East, Africa, India and significant parts of Asia and the Americas, it is one of the world's three leading satellite operators in terms of revenues.
Eutelsat's satellites are used for broadcasting 4,400 television and 1100 radio stations to over 204 million cable and satellite homes. They also serve requirements for TV contribution services, corporate networks, mobile positioning and communications, Internet backbone connectivity and broadband access for terrestrial, maritime and in-flight applications. Eutelsat is headquartered in Paris.
4. Telesat Canada,

Canada
Satellites in Orbit: 13
Satellites on Order: 3
Telesat Canada is a Canadian satellite communications company founded on May 2, 1969. The company is headquartered in Ottawa, Ontario as well as having offices in the United States and Brazil.

The company is now the fourth-largest fixed satellite services provider in the world. It owns a fleet of 13 satellites, has one other satellite under construction, and operates 13 additional satellites for other entities.

5.

JSAT Corporation,

Japan
Satellites in Orbit: 8
Satellites on Order: 3
Lockheed Martin Built JCSAT 12 Satellite Ready To Be Launched For SKY Perfect JSAT.
JSAT Corporation (JSAT) is satellite operator with a fleet of 8 satellites in orbit. JSAT was the first private-sector satellite communications operator in Japan, beginning its operations following the enactment of Japan's Telecommunications Business Law in 1985. In October 2008 JSAT, was merged with SKY Perfect Communications, Inc., and Space Communications Corporation, resulting in the creation of the SKY Perfect JSAT Group.
6. Star One,

Brazil
Satellites in Orbit: 7
Satellites on Order: 0
Star One is a Brazilian communication satellite company. It is a subsidiary of Embratel.
7.
Hispasat,

Spain
Satellites in Orbit: 3
Satellites on Order: 1
Hispasat is a group of Spanish communication satellites . They were developed by the Instituto Nacional de Técnica Aeroespacial (National Institute for Aeronautical Technology) and the European Space Agency. It now belongs to Eutelsat (27.69%) and other private shareholders from Spain.
First satellite to be launched was the Hispasat 1-A, in 11 September 1992 using an Ariane 4, from the Centre Spatial Guyanais, in Kourou, (French Guiana) and put into geostationary orbit 36.000 km height of Equator at 30° West.
8.
SingTel/Optus,

Australia
Satellites in Orbit: 4
Satellites on Order: 1
The Optus D1 satellite,the satellite will provide fixed communication and direct television broadcast services to Australia and New Zealand.
9.
Russian Satellite Communications,

Russia
Satellites in Orbit: 11
Satellites on Order: 3
RSCC possesses the largest constellation of geo-stationary communication and broadcasting satellites in Russia, well-developed ground infrastructure of teleports and fiber-optic communication links. The facilities allow us to render a full spectrum of up-to-date telecommunication services throughout the world, including TV and radio broadcasting, telephony, high-rate data transmission, video-conferencing, deployment of corporate networks.
10.
Space communications,

Japan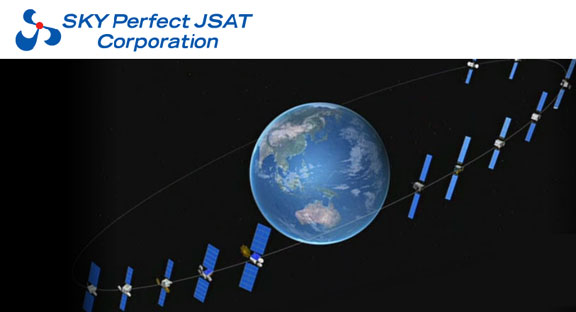 Satellites in Orbit: 4
Satellites on Order: 1
JCSAT-13 and VINASAT-2 satellites being loaded on airplane Antonov 225 for delivery to launch site.
The SKY Perfect JSAT Group is a holding company established in Japan in April 2007 as SKY Perfect JSAT Holdings Inc. The group claims to be, "Asia's largest satellite communication and multi-channel pay TV company."
Source: wikipedia.org