10 Major Human Rights violations for 2013
Human Rights Risk for 2013
The Human Rights Risk Atlas 2013 is an tool to assess, quantify and compare human rights risks and responsibilities in 197 countries around the world with methodological reference to the UN "Protect, Respect and Remedy" framework for Business and Human Rights.
1. Indigenous human rights defenders at extreme risk
Violence against indigenous peoples and environmental activists continues to be an issue in Brazil. Logging industries and large ranchers in particular are implicated in serious abuses against defenders. The state of Para, as well as the Maranhao, Mato Grosso, and Rondonia states, has seen indiscriminate violence committed against activists by armed groups linked to these industries.
Death threats and killings of indigenous rights activists have been connected to their revealing of illegal logging. In May 2011, activists Jose Claudio Ribeiro da Silva and his wife, Maria do Espirito Santo were shot dead in the northern state Para. They were responsible for uncovering the activities of illegal loggers. Their community and family continue to receive death threats. Adelino Ramos, another activist who documented abuses by the logging industry, was shot dead in Rondonia state in 2011.
Furthermore, the Pastoral Land Rights commission documented 34 murders and 55 attempted murders of environmental and indigenous rights activists in a 2011 report. On 18 November 2011, indigenous leader Nisio Gomes, a Guarani-Kaiowa chief who campaigned against ranchers expanding their farms onto protected indigenous lands, was killed in Mato Grosso do Sul by gunmen hired by ranchers.
2. Gender parity in the boardroom – breaking the glass ceiling in Belgium
Statistics highlight a significant underrepresentation of women in company boardrooms, reflecting gender imparity within the senior white collar workforce. In April 2011, a study on gender parity in Belgium's largest listed companies revealed a severe lack of gender parity. On average, women were absent from 48% of the boards of directors and from 57% of the executive committees; represented only 9% of the board of directors and of the executive committees; and represented a mere 36% of employees within the companies.
In order to improve the representation of women on corporate boards, the Belgian Parliament voted in favour of new legislation in June 2011. The legislation proclaims that at least one-third of directors designated by the Belgian State, or by a company controlled by the Belgian State, shall be of the opposite gender to the remaining two thirds. Listed companies must also demonstrate that efforts have been made to meet the minimum requirement of one-third of board members from the minority gender.
3. Conversion campaign continues against Falun Gong in China
Freedom of thought, conscience and religion is severely limited in China. Since 1999 the Falun Gong, a spiritual institution linked to Buddhism and Taoist traditions, has been outlawed as a heretical cult.
In March 2011, Falun Gong practitioner Zhou Xiangyang was arrested. The authorities had previously held Zhou for nine years in detention, during which time he was tortured and subjected to inhuman and degrading treatment. He was also subjected to sleep deprivation, electric shocks, forced labour, and was shackled in stress positions. When being taken into custody for the second time in March 2011, Zhou went on hunger strike when he was denied a lawyer. Li Shanshan, Zhou's wife, collected a petition signed by thousands of supporters demanding his release. The authorities arrested her in September 2011.
In 2012 the Chinese State implemented a three-year plan to coercively convert Falun Gong adherents. Human rights groups scrutinise and monitor the persecution of the Falun Gong in China.
4. Doing business in Dubai: Censorship and monitoring of private communication
In August 2011 Dubai police announced that individuals could be imprisoned for forwarding or spreading any insults to the country's reputation via messaging services or social networks. The service providers use a proxy server to block material deemed inconsistent with the country's values.
Over the past few years, the authorities in the United Arab Emirates (UAE) have charged several foreign nationals with defamation. In one case, British journalist Mark Townsend was charged with defamation for criticizing his employer. Mr Townsend was acquitted of all charges at the Dubai Court of Misdemeanors. In August 2011, a British national was fined approximately US$800 for insulting her co-worker on her personal Facebook page.
International media sites accessed from the UAE are censored and agendas for meetings revised, further restricting freedom of expression. Moreover, self-censorship seems to be required in order to conduct organised events. For example, the agenda of the annual global meeting of the International Bar Association had to be revised and the panel on women and Islam removed in order for the conference to take place.
5. Labour disputes turn deadly
On 16 August 2012, 35 protesting miners were shot dead and 78 more were injured by police in South Africa. The event was the culmination of increasingly acrimonious industrial relations over 2011 and 2012, resulting from substandard living conditions, dissatisfaction over wages, union rivalry and company refusal to negotiate. In total, strikes at the Lonmin-owned platinum mine in Marikana lasted six weeks and cost 46 lives.
The eventual success of the Lonmin miners in securing unprecedented pay rises has inspired action at other mines in the area. For example, Anglo American Platinum has been associated with the death of one miner who was run over by a police vehicle during attempts to disperse strikers on 19 September 2012. These events illustrate the importance to companies of maintaining good industrial relations and mitigating risks of complicity in police brutality. While productivity losses from the mining strikes have strained the finances of some operations, depressed share prices reflect damage to corporate reputations.
6. Violence against female migrant workers with impunity
Violence against female migrant workers has been exposed at a Classic Fashion clothing factory in Jordan. The Institute for Global Labour and Human Rights has produced a 74-page report that includes the testimonies of victims alleging repeated rapes, serial harassment and torture from managerial staff since 2007. It is claimed that those who became pregnant as a result of violations were immediately deported. Workers at the factory attempted to resolve their situation by striking in 2010, but the issue was not resolved and the government of Jordan has made no attempt to intervene.
The case illustrates risks of sourcing from countries where the rights of migrant workers are not fully protected. The severe discrimination on the grounds of gender and pregnancy at Classic Fashion can be seen as a symptom of the institutionalised discrimination against migrants found in Jordan's restrictive sponsorship programme. International brands sourcing from the factory, including Wal-Mart and Target, have suffered reputational damage and product boycotts as a result of the scandal.
7. Hundreds of people protest against alleged torture in prison
Two weeks before the 1 October 2012 parliamentary elections in Georgia, a video showing prison guards torturing and sexually abusing an inmate was aired by the opposition TV channel TV9. Hundreds of people took to the streets of the capital to protest against poor conditions in Georgian prisons and widespread abuse of inmates. As a result, the Minister of Justice, Khatuna Kalmakhelidze, resigned from her post and the prosecutor's office arrested ten prison officials. The president of Georgia, Mikheil
Saakashvili publicly condemned the abuse and deployed the police forces to replace prison guards.
Businesses that run or partially staff detention facilities where torture or ill-treatment is known to have taken place can be found complicit in human rights violations. Businesses may also face allegations of complicity in violating the right to freedom from torture by providing equipment to security forces that they knew or should have known would be used in torture. Moreover, in the Georgian context, businesses might face challenges if there are accusations that they are benefitting from torture perpetrated by the state actors (e.g. torture of opposition leaders who oppose the business or any joint venture with State-owned enterprises, or union leaders).
8. Child Soldiers
As the conflict in Syria worsens, concerns are growing regarding the use of child soldiers by the government opposition group, the Free Syrian Army (FSA). A UN report released in June 2012 claimed that children as young as nine have been the victims of killing and maiming, arbitrary arrest, detention, torture and sexual violence. Eyewitness accounts indicate that children are also fighting on the front line. According to the Syria Violations Documentation Centre, at least 1,176 children have been killed since February 2011.
Human Rights Watch have pushed for the UN Security Council to impose an arms embargo to avoid further killings and violations of the rights of children and on the leaders of Syrian opposition groups to immediately stop the use of child soldiers.
Businesses operating in Syria should be mindful of the situation in the country, taking care to avoid affiliation with both the government and its opposition groups. Whilst the conflict continues, international scrutiny will focus on businesses which inadvertently facilitate the current situation. Businesses associated with the export of arms and security-related equipment need to ensure that they are not complicit in the use of child soldiers and the killing of children.
9. Judicial Independence
In May of 2011, Ukrainian opposition leader and former leader of the 2004 'Orange Revolution' Yulia Tymoshenko was charged with the crime of 'abuse of office,' in relation to a natural gas extraction contract signed with Russia in 2009. After a short trial, she was given a seven year prison sentence and removed from her role in the opposition, as no one convicted of a crime may serve in public office.
After defeating Yulia Tymoshenko to win the presidential election in February 2010, President Yanukovych has used the judiciary as a tool to forward his political goals. The Constitutional Court has often supported the President, allowing him to change and violate the constitution at will. Judges who are not supportive of the President are forced to resign, and the independence of the judiciary is thus impaired. The charges against Tymoshenko amount to judicial persecution, and reveal the judiciary as a legal front for political show trials, as opposed to an effective and independent check on the balance of governmental power.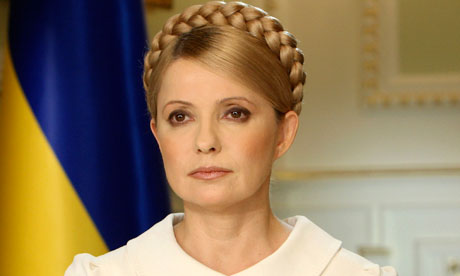 Tymoshenko's trial demonstrates that under the Yanukovych regime, Ukraine is unlikely to move forward with any judicial reform, posing risks to business of being implicated in unfair trials and violations of access to remedy.
10. Risk of extreme poverty in the eurozone
With the crisis that we see not yet the end of the eurozone, the prospects for significant maintenance of the quality of life for citizens of some countries in europe is really threatened, since it is expected to increase unemployment and the consequences that it generates. The situation so now becomes chaotic countries, like Portugal for example, where the head of state admitted that the best for the youth of his country was immigrating. This is not expected to leave the mouth of the Prime Minister of his country.
Other countries that have requested international aid money as Ireland, Greece, Spain or Italy can not impose measures that impose their creditors, making the tax increases many businesses open and close bankruptcies thus creating unemployment and jobless course, and this leads to weakening domestic economy and its consequences, and this is not the best way for a country that wants to grow and overcome a crisis.
Source: maplecroft.com 1/9