10 + 2 Highest Cities in the World
This is an incomplete list of the highest settlements in the world.
Only permanent settlements occupied year-round are included. The locally claimed elevation above sea level is given; this may be the highest point in the settlement, the lowest point, an average height or the elevation of a particular central point.
The high elevation of the towns or cities affects the social and physical arrangement of the place. In many cases, the cold climate in winter necessitates a particular style of house; the type of agriculture practised and the domestic animals kept there are limited; or, the type of work carried on is specialised.
In some of these cities the air is so thin that you probably failed to ride a bike by far.
1. La Rinconada, Peru
Altitude: 16,728 feet (5,099 m)
Total Population (2012): 50,000
Note: The highest in the World according to National Geographic Magazine.
2. Wenquan, China
Altitude: 16,467 feet (5,019 m)
Note: Highest city in the world according to The Guinness Book of World Records.
3. El Aguilar, Argentina
Altitude: 16,059 feet (4,895 m)
Note: El Aguilar is a mining company town in Jujuy Province. 3655 inhabitants (2001)
4. Colquechaca, Bolivia
Altitude: 15,393 feet (4,692 m)
Note: Colquechaca is a small town in Bolivia. In 2009 it has an estimated population of 1753. It is the highest city in Bolivia
5. Ukdungle, India
Altitude: 15,285 feet (4,659 m)
Note: Ukdungle is a small settlement in Leh District, Jammu and Kashmir in northern India near the border with Tibet. It lies only 22.7 miles south-west of Dêmqog, Ngari Prefecture in western Tibet. Hanle Observatory and Demchok village on LAC are close by. It is the highest city in India
6. Tanggulashan, China
Altitude: 15,049 feet (4,587 m)
Note: It is in the southwest of Qinghai province, Western China. It forms the southern exclave of the county-level city of Golmud, in Haixi Mongol and Tibetan Autonomous Prefecture. Before the local administrative reform of 2005, it was known as Tanggulashan Township (唐古拉山乡).
7. Pagri, China
Altitude: 15,000 feet (4,600 m)
Note: It is a town in Yadong County in the Tibet Autonomous Region (Xizang Zizhiqu), China, near the border with Bhutan. It is one of the highest and coldest towns in the world, being 15,000 feet above sea-level.
8. Kurgiakh, India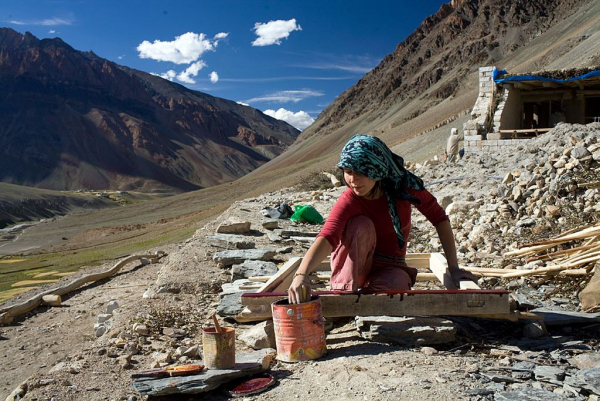 Altitude:
14,986 feet (4,568 m)
9. Takh, India
Altitude:
14,986 feet (4,568 m)
10. Yelchang, India
Altitude:
14,947 feet (4,556 m)
11. Niagsu, India
Altitude:
14,921 feet (4,548 m)
12. Olaroz Chico, Argentina
Altitude:
14,908 feet (4,544 m)
Note: It is a rural municipality and village in Jujuy Province in Argentina.
Source: wikipedia.org