10 Largest Monoliths in the World
In the context of this top 10 list it refers to a geological feature such as a mountain, consisting of a single massive stone or rock.
A problem with finding the largest monolith is that the term "monolith" is somewhat ambiguous. Geologists therefore often prefer the terms monadnock or inselberg (literally "island mountain") to describe an isolated hill or a lone mountain that rises above the surrounding area. Most monoliths in this top 10 are inselbergs, although not every inselberg is a monolith. For example, Mount Augustus in western Australia is often called a monolith but it is actually a monocline, an exposed piece of rock belonging to a layer beneath. In other words a monocline is not a single piece of rock although the distinction isn't always clear.
Another problem is that many rocks and mountains are called the largest monolith in the world but these claims are rarely backed up by geological information and may be based upon a single dimension such as height or circumference. Furthermore, height may be measured above sea level or the surrounding ground.
In any case, here is a list of some of the largest, biggest and most interesting monoliths on the planet.
10. Peña de Bernal, Mexico
Peña de Bernal ("Bernal Peak") is Mexico's largest monolith located in San Sebastian Bernal, a small town in the state of Queretaro. The rock rises 350 meters (1148 feet) above the town and was formed some 100 million years ago during the Jurassic period when it was at least three times higher than today.
9. Rock of Gibraltar, UK
The Rock of Gibraltar is an overseas territory of the United Kingdom on the southern coast of Spain at the entrance to the Mediterranean sea. The 426 meters (1,396 feet) high limestone monolith is the home of 27,800 Gibraltarians and 250 Barbary macaques, the only wild primates in Europe. In Greek mythology Gibraltar was one of the Pillars of Hercules which marked the edge of the Mediterranean and the known world.
8. El Capitan, Yosemite, U.S.
One of the most famous sights in Yosemite National Park, the granite monolith El Capitan rises almost 910 meter (3,000 foot) vertically from Yosemite Valey. It is is a favorite challenge among expert rock climbers. In 1958, Warren J. Harding, Wayne Merry and George Whitmore were the first to climb the Nose of El Capitan using ropes, pitons and expansion bolts.
7.Torres del Paine, Chile
Torres del Paine is a national park in the Extreme South region of Patagonian Chile and features mountains, lakes and glaciers. The centerpiece of the park are the three Towers of Paine; spectacular granite monoliths shaped by the forces of glacial ice. The highest peak is about 2,500 meters (8200 feet).
6. Ben Amera, Mauritania
Mauritania's best kept secret, the Ben Amera lies hidden in the desert waiting to be discovered by mass tourism. According to some sources it is the second largest monolith in the world after Uluru. Ben Amera is located 5km from Tmeimichat, a small village on the route of the desert train between Nouadhibou and Zouerate.
5, Devils Tower, U.S.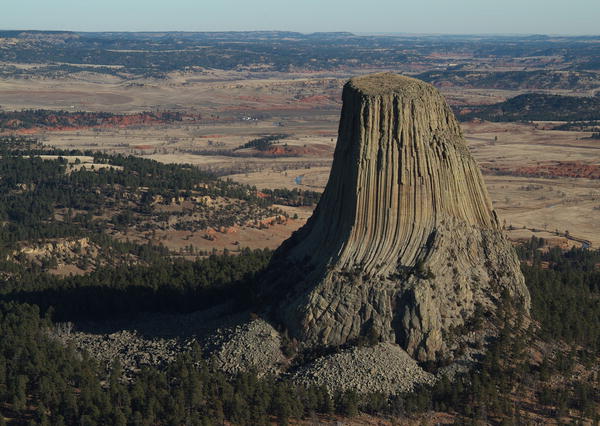 Rising 386 meters (1,267 feet) above the surrounding terrain, Devils Tower is the core of an ancient volcano exposed from erosion. It is located in the Black Hills in Crook County, northeastern Wyoming and was declared a United States National Monument in 1906 by President Theodore Roosevelt. The mountain became world famous in 1977 when it was chosen as the location of the alien-human rendezvous point in Steven Spielberg's Oscar winning science fiction film, Close Encounters of the Third Kind.
4. Sigiriya, Sri Lanka
Sigiriya is a spectacular 370 meter (1214 foot) high 'Lion rock' fortress overlooking the green jungle surroundings. It is one of Sri Lanka's major tourist attractions. The Sigiriya rock is a hardened magma plug from an extinct and long-eroded volcano, similar to Devils Tower. From about the 5h century BC it was used as a rock-shelter mountain monastery and later turned into a rock fortress by King Kasyapa.
3. Sugarloaf Mountain, Brazil
Sugarloaf Mountain (Portuguese: Pao de Acucar) is one of the most commonly recognized and sought after tourist attraction in Rio de Janeiro. Situated on a peninsula that sticks out into the Atlantic Ocean, the mountain rises 396 meters (1,299 feet) above sea-level. A cable car brings visitors to the peak of Sugarloaf Mountain where spectacular views of Copacabana and other beaches can be admired.
2. Zuma Rock, Nigeria
Nigeria's answer to Australia's Uluru, Zuma Rock lies north of Nigeria's capital Abuja and is easily observed by driving the main road from Abuja to Kaduna. Although only one-third as wide as Uluru, Zuma Rock is more than twice as high, rising an impressive 725 meters (2378 feet) above its surroundings. According to some observers a person's face can be recognized in the white part at the center of the rock.
1. Uluru/Ayers Rock, Australia
Uluru (or Ayers Rock) is one of Australia's most recognizable natural icons, located 335 km (208 miles) south west of the nearest large town, Alice Springs. It is the largest monolith in the world. The world-renowned sandstone formation stands 348 meter (1,142 foot) high and measures 9.4 km (5.8 miles) in circumference. The rock undergoes dramatic color changes with its normally terracotta hue gradually changing to blue or violet at sunset to flaming red in the mornings as the sunrises behind it.
Source: touropia.com