10 UFC Fighters who have helped the sport grow
The Ultimate Fighting Championship (UFC) is one of the fastest-growing sports entertainment businesses in the world. If you don't know what the UFC is, then it's time for you to move out from under that wrestling ring and take up residence under the octagon. The UFC started as an open-class competition free-for-all with no rules, in which competitors beat one another to a pulp, and the sport has evolved into the mega fighting industry it is today.
These 10 UFC fighters have all given their blood, sweat and tears for the organisation, and they will all hold a special place in the history of the sport. Their competitive drive, their strength to succeed and their love and passion for the sport are what brought them to greatness. And it is those qualities that will forever keep them great and true pioneers of the UFC.
Here are 10 UFC fighters who have helped the sport grow into what is today. Some fighters have helped more than others, but all have made some contribution to the business. These 10 UFC fighters are the best fighters to enter the Ulti mate Fighting Championship ring.
10. Dan Severn
Dan "The Beast" Severn was an American mixed martial artist and a professional wrestler when he entered the UFC in its early stages. Severn quickly became one of the most popular UFC fighters due to his wrestling techniques, which allowed him to take opponents to the ground and beat them into a knockout win. Unfortunately, Severn's lack of submissive experience and guarding toward submission moves lead him to lose many fights. Although, through his immense skill, Severn was still able to win UFC tournaments and become an influence on wrestling-trained fighters everywhere to fight in the UFC, making him a UFC Hall of Famer.
9. Georges St-Pierre
Quebec's George "Rush" St-Pierre, aka "GSP," is the former UFC Welterweight Champion and has made great strides in the UFC in very little time. Touted as one of the best fighters in the world, St-Pierre lived up to expectations, especially after winning his first two fights in the UFC en route to his first title shot against then-Welterweight Champion Matt Hughes. Although St-Pierre's title shot resulted in a loss, he did beat Matt Hughes for the Welterweight title in his rematch.
St-Pierre can definitely be credited with bringing the UFC market to Montreal and, in a bigger sense, to Canada.
8. Anderson Silva
Anderson "The Spider" Silva is among the toughest UFC fighters to ever be a Middleweight Champion in the UFC. With his Muay Thai skills, Silva has done nothing but completely obliterate the competition in the UFC middleweight class. Getting his first fight in the UFC on June 28, 2006, against an undefeated Chris Leben, Silva easily dispatched his opponent with quick, devastating strikes early on in the first round. That win led Silva to his shot at the title against Rich Franklin, in which Silva easily became champion.
7. Tito Ortiz
Tito "Huntington Beach Bad Boy" Ortiz will likely go down as the biggest trash talker in UFC history. Having a knack for wearing T-shirts that degrade his opponents after a win, Ortiz has enjoyed beating his rivals through powerful strikes, both standing up and on the ground. Ortiz was a Light Heavyweight Champion from 2001 to 2003 before losing his title to Randy Couture. Ortiz always brought excitement to the ring through his antics and overzealous confidence, which in turn brought the fans to the ring and made him one of the biggest stars in UFC history.
6. Chuck Liddell
Chuck "The Iceman" Liddell is as tough and as cold as they come. With incredible strength, huge knockout power, great wrestling ability, and an unorthodox fighting style, it comes as no surprise that Liddell has had such an illustrious career in the UFC. Liddell's career began in 1998, when he went 12-1 en route to his title shot against Randy Couture for the Light Heavyweight title, which Liddell lost. In his rematch with Couture, Liddell got his revenge by beating Couture for the championship. Liddell had successfully defended his championship against a bevy of talented opponents, unfortunately Liddell's reign came to an end against Quinton "Rampage" Jackson.
5. B.J. Penn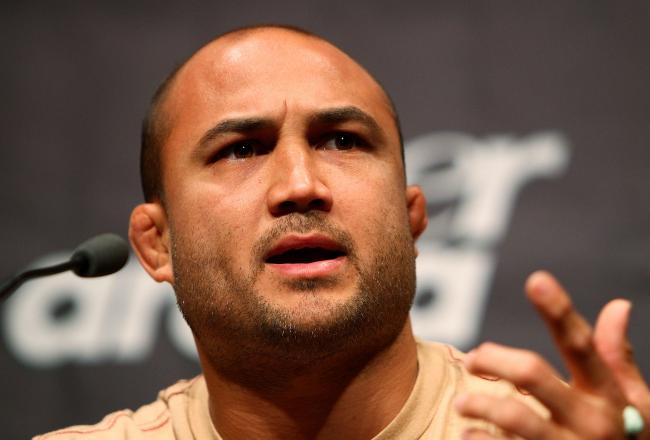 B.J. "The Prodigy" Penn is one of only two men in UFC history to win a title in two different weight classes. B.J. Penn is a UFC fighter with tonnes of skill and heart, something that can make a winner out of any fighter. Penn won his first title in the Welterweight class against champion Matt Hughes. Later on in his career Penn went down to the Lightweight class and won two straight fights to obtain the Lightweight Championship, giving Penn a place in UFC history.
4. Matt Hughes
Matt Hughes is a UFC fighter who can very well do it all; he's a submission specialist, a powerful striker and a fighter that uses his brain just as much as his brawn. After winning the Welterweight Championship in November 2001, Hughes successfully defended his title a whopping five times before losing it to B.J. Penn in January of 2004. However, Hughes regained the title in October 2004, when he defeated St-Pierre. Hughes' reign came to an end in a rematch with St-Pierre, in which St-Pierre completely dominated the entire match. Hughes will go down as one of the best fighters to ever grace the UFC octagon, and is a shoe-in for the UFC Hall of Fame.
3. Ken Shamrock
Ken Shamrock was also one of the original fighters in the early years of the UFC, and winning the UFC Superfight title (an open weight class tournament) may have been the highlight of Shamrock's career. After weight classes were established in the UFC, Shamrock joined the Light Heavyweight ranks, in which Shamrock had some ups and downs. The biggest moment of Shamrock's Light Heavyweight career was his title fight against the very cocky Tito Ortiz, in which Ken lost. On November 21, 2003, the UFC's 10th anniversary, Ken Shamrock was inducted into the UFC Hall of Fame alongside Royce Gracie.
2. Royce Gracie
Royce (pronounced "Hoyce") Gracie is the one person that makes the UFC automatically pop into your head at the mere mention of his name. Gracie is arguably the man that put the UFC on the map; he's a UFC Hall of Famer and the first ever winner of the UFC open class tournament in UFC 1. A master at Brazilian Jiu-Jitsu (a submission specialist), Gracie proved to the world with his memorable wins that size and strength does not mean victory. Gracie's wins over his bigger opponents is what gave birth to fighter's practicing more than one fighting style to achieve success. Gracie was one of the first UFC fighters to be inducted into the UFC Hall of Fame.
1. Randy Couture
Randy "The Natural" Couture has speed, strength, stamina, endurance, and a slew of fighting skills. Couture was the first ever UFC fighter to win a championship in two different weight classes, starting his career in the Heavyweight division and becoming the UFC Heavyweight Champion in December 1997. Couture would lose, win and lose the Heavyweight title before switching to the Light Heavyweight class, in which he defeated Chuck Liddell for the title, which was the fight that gave him two title wins in two different weight classes.
On February 4, 2006, Couture retired immediately following a loss to Liddell, and on January 11, 2007, Couture announced that he was coming out of retirement to join the Heavyweight class. Couture proceeded to stun the UFC world by taking down champion Tim Sylvia and becoming a five-time UFC champ. Couture is one of only four UFC fighters to be inducted into the UFC Hall of Fame.
Source: uk.askmen.com