10 largest Civilian Firearms Arsenals in the World
Most of the world's firearms are privately owned.
They include improvised craft guns as well as handguns, rifles, shotguns, and machine guns. The legal definition of a civilian firearm varies; some states allow civilian ownership of certain firearms that are restricted to military use in other states. The word civilian is used here to refer to actual possession, not legality.
Law enforcement (Police): 26 million.
Armed forces: 200 million.
Civilians (650 million, including gangs (2–10 million), private security companies (1.7–3.7 million) and non-state armed groups (1.1–1.8 million))
Note: Whereas the Small Arms Survey (2010, pp. 101–03) estimates that armed groups hold about 1.4 million firearms,± 25 per cent, rounded.
1. United States of America
Estimated civilian firearms:
(270,000,000)
U.S. President Barack Obama shoots clay targets on the range at Camp David, Maryland, in this White House handout photo taken last Aug. 4, 2012. Reuters/White House Handout
2. India
Estimated civilian firearms:
(46,000,000)
3. China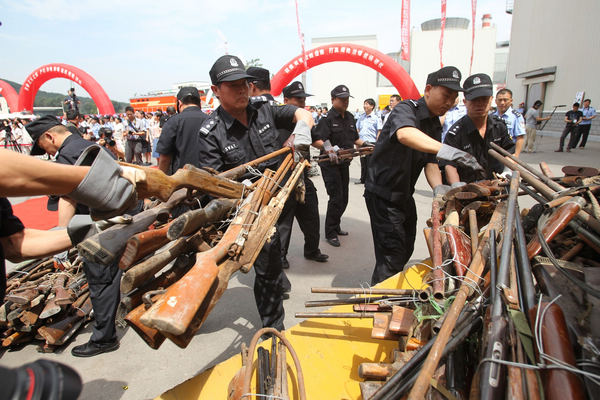 Estimated civilian firearms:
(40,000,000)
4. Germany
Estimated civilian firearms:
(25,000,000)
5. Pakistan
Estimated civilian firearms:
(18,000,000)
6. Mexico
Estimated civilian firearms:
(15,500,000)
7. Brazil
Estimated civilian firearms:
(14,840,000)
8. Russia
Estimated civilian firearms:
(12,750,000)
9. Yemen
Estimated civilian firearms:
(11,500,000)
10. Thailand
Estimated civilian firearms:
(10,000,000)
11. Others
Estimated civilian firearms:
(186,410,000)
Source: wikipedia.org and smallarmssurvey.org