10 Most Exclusive Cars Ever
Going to a car dealership can be a trying experience. You test-drive a few models in your price range, haggle with the salesman over the price and finally settle on a four door compact because it's a "good value," all the while ogling the flashy red BMW in the showroom.
Now step out of reality for a moment. Price is no longer an issue, you're rolling in dough and high-end car dealers are coming to you, begging you to buy their latest model. Welcome to the world of the exclusive car owner. Feels good, doesn't it? Well, that's what it must have been like for the owners of the cars that made it on our list of the 10 most exclusive cars ever sold.
For our showcase, we focused only on cars produced during the last 10 to 15 years, and didn't include concept cars, one-offs or customized cars. So although works of art like Pininfarina's Ferrari P4/5 and the 1936 Bugatti Atlantic are certainly exclusive, you won't find them on this list. What you will find is a car with a glass engine hood, another with a land speed record and one that comes inscribed -- not with a serial number -- but with a unique poetic verse.
Through price, limited-production runs or strict ownership requirements, these are rare beauties you definitely won't be test-driving at your local car dealership.
10. Fiat 500 Prima Edizione
At the 2010 annual convention of Club Fiat-Lancia Unlimited, informally known as the "Fiat Freakout," long-time American enthusiasts of the Fiat brand were richly rewarded. Those in attendance were given the first opportunity to order one of the first 500 Fiat 500s available in the United States. In a press release, Fiat said the special offering was the company's way of thanking the many loyal Fiat customers who were responsible for keeping the "brand alive in North America". Only 500 of the limited-edition Prima Edizione models will be sold, and only to people living in the United States.
The lucky buyers could choose among red, white or gray for their new ride. The car features a 1.4L, four-cylinder engine equipped with a unique multi-air system able to increase power by 10 percent, while also reducing fuel emissions by 10 percent when compared to similar engines. Each of the 500 cars is identified by a serial number according to its production number, as well as a unique identifying badge -- just in case someone doesn't realize you're driving an exclusive car.
If you weren't at the Freakout, though, don't freak out. You can always cough up $500 to get on the waiting list in case someone drops out. And if you're not from the United States, you can always try your luck with the next car.
9. Mercedes-Benz A-Class E-Cell
The Mercedes-Benz A-Class E-Cell isn't only limited in number, but also in its release area. Only 500 of the electric cars will be sold and only to "select customers" in a few European countries, mainly Germany, France and The Netherlands. If you live anywhere else, you're pretty much out of luck.
This five-door, five-passenger vehicle, which is based on the company's standard A-Class hatchback, may not fit the visual of a typical exclusive automobile, but don't let it's van-like appearance fool you. Unlike some other electric cars whose bulky batteries often impede performance, Mercedes claims the out-of-the-way placement of the E-Cell's two lithium ion batteries allows "agility and driving pleasure," as well as excellent road-holding characteristics. In addition, the car can travel more than 124 miles (200 kilometers) between charges and has a top speed of 93 mph (150 km/h). Not bad for a minivan.
If you live in the United States and are having a bit of electric car envy, don't worry. Another exclusive Mercedes, the B-Class F-Cell hydrogen electric vehicle, is being offered in small numbers to people living in Southern California, but only if your answers to a survey questionnaire on the company's Web site pass muster.
Only 500 Mercedes-Benz A-Class E-Cell cars will be sold, and only to "select customers" in a few European countries.
8. Jaguar XKR 75
Most people just have a cake and blow out a few candles to celebrate their birthdays. Not Jaguar. When the elite car company's 75th anniversary rolled around, they decided to commemorate it with a special edition of the XKR. The result, the XKR 75, is everything the standard XKR is and more. Characterized as a "grand tourer with the heart and soul of a sports car," the new XKR, which will have a limited run of (surprise!) 75, will be sold in just six countries: Germany, France, Italy, The Netherlands, Belgium and the United Kingdom.
Priced at $133,568 ($10,000 more than the standard XKR) the XKR 75 features upgraded handling and suspension, improved acoustics, and increased power and torque. The result is a faster, stronger and more agile car. The new version has a respectable zero to 60 mph (97 km/h) time of 4.4 seconds, and an electronically limited top speed of 174 mph (280 km/h). The anniversary edition comes in a gray finish, but for those who want even more exclusivity, Jaguar offers buyers the choice of a unique body graphic to span the car's length. Inside, you'll find performance leather interior with jet suede lining. Add it all up, and you have what Jaguar calls one of its "most exclusive and exciting XKRs" ever produced.
7. Lexus LFA
Lately Toyota has probably been known more for its runaway cars than its luxury vehicles, but with the Lexus LFA the company hopes to change that. And offering only 500 two-seat supercars to buyers who must first pass a background check may just do the trick.
The Lexus LFA, which boasts a 4.8L, V10 engine capable of a top speed of 202 mph (325 km/h), began production in December 2010. Each car is being built by hand (the engines are hand-assembled by a single engineer), perhaps explaining the output of just 20 per month.
Not just anybody with $375,000 to spare can walk into a Lexus showroom and ask for one, though. The LFA is being offered only to individuals who pass a set of stringent requirements based on their location, the other cars they own, and when and where they drive. According to a Lexus representative speaking with "The Wall Street Journal," the ideal LFA owner must "be seen on the right roads, in front of the right restaurants and not just …in their private garage".
If you're that type of person and you have some extra cash floating around, you'll be rewarded. The LFA also comes with a leather or Alcantara fabric-lined interior, a liquid crystal display panel and orthopedically designed leather seats with eight-way electric adjustment. The Mark Levinson Premium Surround Sound Audio System will cost you extra, though.
6. Tramontana
You not only have to be lucky and well-heeled to get your hands on this supercar, you also have to be patient. It takes at least eight months just to reach the top of the waiting list. Only then will you be able to step into the airplane-like cockpit of this part-Formula 1 race car, part-fighter jet, which was modeled after the powerful winds of the Costa Brava with the same name.
According to the car maker's Web site, the Tramontana, which is about as close to a race car as you can get while still being street legal, is the ultimate vehicle of desire, emotion and excitement. Based on its specs, the excitement part at least appears to be a given. This aerodynamic beast has a 12 cylinder, V60 Biturbo engine capable of zooming to 62 mph (100 km/h) in just 3.6 seconds and its 720 horsepower supports an electronically limited maximum speed of 202 mph (325 km/h).
As if the estimated $700,000 price tag weren't limiting enough, the Tramontana is tailor-made for just 12 people every year. And hopefully they like poetry, because rather than marking each car with a serial number, Tramontana has every one inscribed with a unique verse from a poem written exclusively for the event.
5. Lamborghini Reventón Roadster
Another car inspired by fighter jets, the Lamborghini Reventón is one of the world's most expensive street-legal automobiles currently in production. But it's not just this supercars steep $1.56 million price that puts it out of most people's reach. It's also limited to a lifetime run of just 15 cars, the majority of which were already claimed before the model even officially went on sale. If you think you might have better luck with the hardtop version, think again. Debuting just two years earlier with a limited run of 20 (only nine made it to the United States), it too, sold out before it could even make its first official appearance.
Aptly named after Don Rodriguez' famous fighting bull, the Reventón Roadster, along with its coupe counterpart, is among the most powerful in Lamborghinis fleet. Although most of its owners will probably just display their exclusive ride in a garage somewhere, the Reventón's aerodynamic angularity is purely for function, not decoration. And function it does: The V12 650-horsepower engine reaches 60 mph ( km/h) in just 3.4 seconds and has a top speed of 205 mph (330 km/h). It even comes with a g-force meter to measure drive forces when accelerating, braking and cornering.
With its glass engine hood, solid aluminum fuel tank lid and high-tech liquid crystal displays, the Roadster practically screams exclusive.
4. Zenvo ST1
If you like your cars Danish, then the Zenvo ST1 is for you. This hand-built supercar, which Zenvo designed to be trackworthy yet suitable for daily jaunts around town, was built completely in Denmark. Everything from its lightweight, carbon-fiber body panels to its 1,014-horsepower, V8 engine is 100 percent Dane. Based on its limited availability of just 15 total cars, though, it might as well have been made on another planet.
Sold only to "specially approved" customers willing to part with a cool $1.2 million, the Zenvo ST1 can hit 62 mph (100 km/h) in a scantalizing 3 seconds flat and has a top speed of 233 mph (375 km/h). Its 7.0L twin charged engine (supercharged and turbocharged) packs in more power than the world-record-holding Bugatti Veyron and can run on either gas or ethanol.
3. Bugatti Veyron Pur Sang
With its range of rare special-edition models, the Bugatti Veyron is the epitome of exclusive. The Pur Sang, a special-edition of the original Bugatti Veyron 16.4, may just be the most exclusive of them all: Every last one of its limited run of five sold out in less than 24 hours. If you weren't among the select group of invited Europeans to attend its first unveiling, you didn't even have a chance.
One of the fastest, most powerful and most expensive supercars, the Pur Sang reaches velocities that would lift it off the ground if not for its aerodynamic design. The Pur Sang's 8.0L, 16 cylinder engine packs 1,001 horsepower and propels the lightweight car to 62 mph (100 km/h) in just 2.5 seconds, while its high-tech intelligent braking system stops it even faster. It takes a mere 2.3 seconds to go from 62 mph (100 km/h) to a complete standstill.
2. Pagani Zonda Cinque Roadster
If there's a car that can match the elite status of a Bugatti Veyron, it's the Pagani Zonda. The first one, the Zonda C12, rolled out in 1999, and in the decade since, less than 120 have been made. Adding to their elusive status is the fact that EPA and DOT regulations prevent them being sold in the United States.
The street-legal version of the Zonda R, the Cinque Roadster, was limited to a run of just five models (hence the "cinque") that all sold before they were even manufactured. The Zonda gets its name from a swift Argentinean air current, and with a zero to 62 mph (100 km/h) time of 3.4 seconds and a top speed of 217 mph (249 km/h), this particular Zonda lives up to its name. Those speeds emanate from a V12 engine designed by the specialists at Mercedes' high-performance AMG division.
Although the five lucky owners of the Roadster had to fork more than $1.8 million to glide on to its leather, carbon-fiber racing seats, the Cinque is actually a solid investment. As the trading price for used Zondas shoots up exponentially, an increasing amount of wealthy car aficionados are now ditching their traditional stock options and dealing in Zondas.
1. Koenigsegg Trevita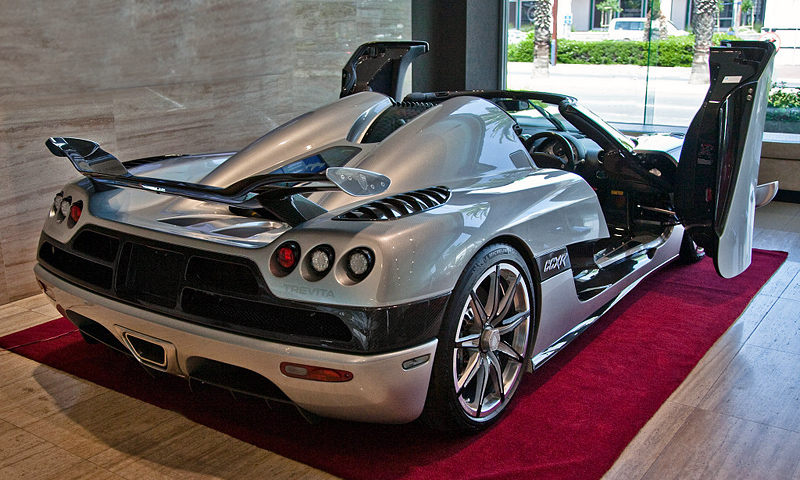 Imagine driving a car that only two other people in the entire world have. That's how owners of the diamond colored Koenigsegg Trevita feel. The name "Trevita," which means "three whites" in Swedish, is a nod to this $2.21 million automobile's glittering, silver-white composite-fabric finish, and to the fact that only three of them will ever be made. Deemed the world's most expensive street-legal production car by Forbes, this is one car few people will ever even see, much less drive.
The two-door, removable hardtop vehicle, which can reach a lateral g-force of 1.5 Gs and a top speed of 250 mph (402 km/h), has an engine as powerful as the Veyron's but weighs half as much. Decked out with a tire monitoring system, rear camera, chrono instrument panel and climate control, the Trevita also runs on ethanol. It's a good thing, too, because with a zero to 62 mph (100 km/h) time of 2.9 seconds, we're guessing this baby is a gas guzzler.
Source: dsc.discovery.com