10 Longer Train Journeys of the World
This article lists longest passenger rail services that are currently scheduled and running directly between two cities. This list is not complete due to the complexity of various railway systems, its timetables and difference in schedule administration between countries. To keep the list simple, only services that are point-to-point direct between two cities are listed. Services that require railcar exchanges, coach changes, shunting or station transfers are not listed.
Note: Trains operated by Russia's Trans-Siberian Railway holds the record for maximum number of long distance passenger trains. The longest train journey without changing is the twice monthly through-coach Moscow - Pyongyang via Khasan, Tumangan = 10,175 km in 210 h 20 min.
The following table lists some of the world's longest direct train routes in distance order and per country.
By: Origin City (Country) - Destination City (Country)
1. Moscow (Russia) - Vladivostok (Russia)
Train Name, No: Rossiya 002
Operator Name: Russian Railways
Distance: 9259 km
No. of Stops: 67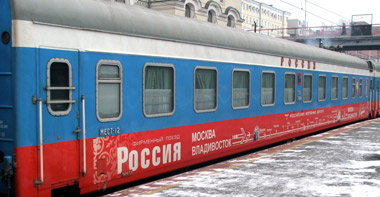 Frequency: Alternate days
Scheduled running time: 178 hrs (~7 days)
2. Moscow (Russia) - Beijing (China) via Harbin (China)
Train Name, No: Vostok 020Щ / 019Ч
Operator Name: Russian Railways/China Railways
Distance: 8984 km
No. of Stops: 44
Frequency: Weekly
Scheduled running time: 144 hrs (6 days)
3. Moscow (Russia) - Beijing (China) via Ulan Bator (Mongolia)
Train Name, No: 43 / 33
Operator Name: Russian Railways/Mongolian Railways/China Railways
Distance: 7826 km
No. of Stops: 33
Frequency: Weekly
Scheduled running time: 131 hrs (5 days +)
4. Guangzhou (China) - Lhasa (China)
Train Name, No: T264
Operator Name: China Railways
Distance: 4980 km
No. of Stops: 10
Frequency: Daily
Scheduled running time: 54 hrs 30 mins (~2 days)
5. Guangzhou (China) - Urumqi (China)
Train Name, No: T38
Operator Name: China Railways
Distance: 4684 km
No. of Stops: 31
Frequency: Daily
Scheduled running time: 54 hrs 13 mins (~2 days)
6. Toronto (Canada) - Vancouver (Canada)
Train Name, No: The Canadian 1 / 2
Operator Name: Via Rail
Distance: 4466 km
No. of Stops: 66
Frequency: 3-Weekly
Scheduled running time: 86 h (3.5 days)
7. Harbin (China) - Haikou (China)
Train Name, No: K1121
Operator Name: China Railways
Distance: 4458 km
No. of Stops: 52
Frequency: Daily
Scheduled running time: 65 hrs 42 mins (~3 days)
8. Shanghai (China) - Lhasa (China)
Train Name, No: T164
Operator Name: China Railways
Distance: 4373 km
No. of Stops: 12
Frequency: Daily
Scheduled running time: 48 hrs 56 mins(2 days)
9. Sydney (Australia) - Perth (Australia)
Train Name, No: The Indian Pacific
Operator Name: Great Southern Railway
Distance: 4352 km
No. of Stops: 26
Frequency: Bi-Weekly
Scheduled running time: 65 hrs(2.5 days+)
10. Dibrugarh (India) - Kanniyakumari (India)
Train Name, No: Vivek Express / 15906
Operator Name: Indian Railways
Distance: 4273 km
No. of Stops: 55
Frequency: Weekly
Scheduled running time: 82 hrs 30 mins(3.5 days)
Source: wikipedia.org