10 Interesting Facts about FIFA (2013)
1. FIFA...
The Fédération Internationale de Football Association (FIFA) was founded in Paris on the 21st May 1904. The founding members, France, Belgium, Denmark, Spain, Sweden and the Netherlands agreed on the FIFA statues, which included rules by which all of their country's games would be played. England, Germany, Austria, Italy and Hungary all joined before the first international tournament in 1906.
2. FIFA is a registered charity...
FIFA is a registered charity, meaning it pays very little tax in its home country of Switzerland. They also require any country which wishes to host a World Cup to provide them with the same tax exemptions. These rules date back to when the federation was a tiny voluntary organisation in Zurich.
3. Most expensive tournament...
The 2010 World Cup was footballs most expensive tournament, costing 33 billion South African rands. FIFA didn't have to pay any income tax, VAT or custom duties on the amount, which is equivalent to £3bn or $4.86bn, thanks to a 'tax bubble' the government set up for them.
4. Joseph Sepp Blatter...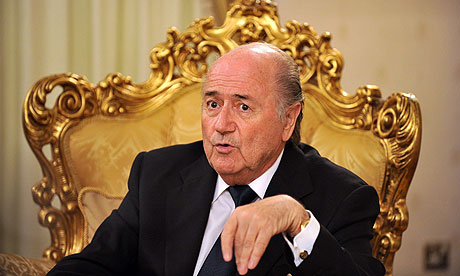 FIFA's current president, Sepp Blatter played in the Main Division Amateur League in Switzerland, before taking his current role. He has previously been head of public relations at the Swiss Tourist Board and also Secretary General of the Swiss Hockey Federation in the 1960s. He then became Secretary General of FIFA in 1981 before taking up the role as president in 1998.
5. European team Winner...
Only one European team has ever won a World Cup that has been played outside of Europe. Spain was the first team to do so in the last world cup in South Africa in 2010. They beat the Netherlands 1-0 after Iniesta scored the winner in extra time in the 116th minute of the game.
6. 19 World Cups...
Out of the 19 World Cups, only countries from South America and Europe have won football's biggest final. European countries have won the World Cup 10 times, with Spain, Germany, France and Italy all lifting the trophy in recent years. Brazil holds the record for the most World Cup tournaments, winning 5 finals.
7. Amazing Players in finals tournaments...
Only two players have scored in four consecutive finals tournaments. West Germany's Uwe Seeler and Brazil's Pele both scored in the 1958, 1962, 1966 and 1970 World Cups.
8. Yellow and Red Cards...
The red and yellow card system didn't come into football until the 1970 World Cup. But it wasn't until four years later, in a match against West Germany, that Chile's Carlos Caszely was sent off by Turkish referee Doğan Babacan after a second yellow card. The card system was introduced after confusion over Jack Charlton's intentional handball in the 1966 World Cup.
9. FIFA Nations Members...
FIFA has more members than the United Nations, with 208 members compared to the UN's 192. There are only eight internationally recognised countries in the world that are not member of FIFA. They include Monaco, Kiribati and the Vatican City.
10. Most watched events in TV...
The World Cup finals are the most watched events ever on TV. The 2006 final was watched by an estimated 715.1 million people, which counts for one-ninth of the entire population of the world. The first televised World Cup was in 1954, when West Germany beat Hungary 3-2.
Source: http://www.footballtransfertavern.com
Note from the editor:
FIFA, Welcome to Brazil World Cup 2014,
not like corrupt ...