10 Best Smartphone of 2013
Now that 2013 is up, we take a look back in the handsets that rose to the top.
Note: Phablet -
A phablet (/ˈfæblɪt/, a portmanteau of the words phone and tablet) is a class of mobile device designed to combine or straddle the functions of a smartphone and tablet. Phablets are characterized by the use of large screens, typically with a diagonal size between 5 to 6.9 inches (130 to 180 mm), which complement screen-intensive activity such as mobile web browsing and multimedia viewing. Phablets may also include software optimized for an integral self-storing stylus to facilitate sketching, note-taking and annotation.
1. Galaxy S4
The Galaxy S4 is one of the best selling Android smartphones of the year, and justifiably so. It has tons of TouchWhiz software features, a swift quad-core processor, and a top-notch 13-megapixel camera.
4.5
The good: The Samsung Galaxy S4 has Android 4.2.2, a fantastic camera, a powerful quad-core processor, and software solutions for just about every scenario -- including working as a TV/DVR remote. It's also comfortable in hand and has NFC, a user-replaceable battery, and a microSD storage slot.
The bad: Its screen is dimmer than competitors', its plastic design gives it a cheaper look than its rivals, and we found the Galaxy S4's power button turned on at undesirable times. Not all camera modes work as promised, and a long list of software features can quickly overwhelm and confuse.
The bottom line: Its laundry list of features require time and effort to truly master, but the Galaxy S4 is the top choice for anyone looking for a big-screen, do-everything smartphone.
2. Google Nexus 5
There was a time not too long ago when only Android diehards were excited about the Nexus handset. These days, however, it looks like Google's flagship has a much more broad appeal. Its newest iteration, the Nexus 5, continues to strengthen the brand with its sharp 1080p display, LTE connectivity, and the latest Android 4.4 KitKat OS.
The good: The Google Nexus 5 has LTE for multiple carriers, a sleek and solid build, and an excellent price. It makes crystal-clear calls, battery life is long, and integration of Google Now is deep and wide.
The bad: The Nexus 5's screen is dimmer than its competitors' and its camera struggles under auto settings. While an important OS update, Android 4.4 KitKat is more conceptual than feature-rich.
The bottom line: Strong performance, high-end specs, and an ultra-affordable price make the Google Nexus 5 not just the best unlocked phone on the market, but the best Nexus phone by far.
3. Motorola Droid Maxx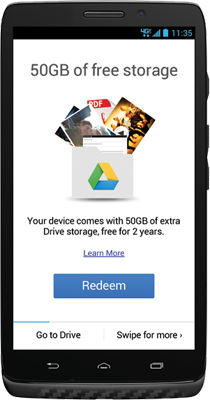 People often complain that their smartphones never have enough juice to last the workday. Fortunately, the Maxx just keeps going, and going, and going -- for up to a 48 hours in fact. It's such a great device that our only complaint at the time of its review was that it was too pricey.
The good: The Motorola Droid Maxx delivers astonishingly long battery life, a big, colorful screen, and a durable, attractive design. The phone performs inventive tricks such as responding to voice commands, giving screen-based notifications, and quick-launching the camera, which takes pleasing pictures.
The bad: The Motorola Droid Maxx is expensive.
The bottom line: If you can get past its steep price, the massive-screened Motorola Droid Maxx is currently Verizon's best Android smartphone.
4. Apple iPhone 5S
Compared to its predecessor, the iPhone 5S isn't a massive overhaul of an update. But Apple still delivered a solid device, which includes a more powerful 64-bit A7 processor, a fantastic upgraded camera, and a fingerprint scanner. Known as TouchID, the feature isn't the first fingerprint reader on a handset, but it is the best executed one we've seen so far.
The good: The iPhone 5S delivers an improved camera, a nifty fingerprint sensor, and a next-gen CPU and motion-tracking chip. Apple throws in the iWork app suite for free. iOS 7 adds some nice step-ups, too, including AirDrop file transfers and the Android-like Control Center.
The bad: External design is identical to that of the iPhone 5, including a 4-inch screen that looks downright tiny next to Android competitors. For now, the fingerprint sensor only works with Apple apps. The 64-bit A7 processor and M7 motion-tracking chip don't have killer apps yet. iOS 7 differences are potentially jarring for longtime iPhone users.
The bottom line: The iPhone 5S is not a required upgrade, but it's easily the fastest and most advanced Apple smartphone to date.
5. Nokia Lumia 1020
For anyone who can't "get no satisfaction" with cameraphones, say hello to the Lumia 1020. Packed with a 41, yes, 41-megapixel camera, Nokia's 1020 was created with serious shutterbugs in mind. It also features a wide xenon flash and a six-element Carl Zeiss lens.
The good: The Nokia Lumia 1020 smartphone's camera captures extremely high-resolution images with fine detail, and puts creative controls at your fingertips.
The bad: A niche device, the Lumia 1020 is $100 pricier than most high-end smartphones. The lens makes it a little bulky. Multiple camera apps are confusing. It lacks manual f-stop control and presets for common shooting scenarios.
The bottom line: Avid mobile photographers will love the Nokia Lumia 1020's exact controls, but casual users should stick to cheaper camera phones.
6. HTC One
When it comes to looks, no Android handset this year compares to the One. Sporting an all-aluminum chassis and sleek unibody design, HTC's flagship is one fine piece of gadgetry. But it has a lot of inner-beauty as well: there's a quad-core Snapdragon 600 CPU, a nifty UltraPixel camera, and HTC's refreshing Sense UI.
The good: The HTC One flaunts a stunning metal design, a powerful quad-core processor, and a beautiful 4.7-inch, 1080p screen. It runs Android Jelly Bean, takes great pictures, and has a feature-packed camera app.
The bad: The sealed case design means no SD expansion slot or user-replaceable battery. The BlinkFeed software can't be completely removed.
The bottom line: A few quibbles notwithstanding, the powerhouse HTC One is a beautifully crafted, near-ideal smartphone.
7. LG G2
If you're not taking LG smartphones seriously, it's time you start. LG's flagship device of 2013, the G2, is equipped with not only a high-powered Snapdragon 800 processor, it also has a vivid 5.2-inch 1080p screen, and a fast camera to boot. And if that doesn't make it stand out enough, LG relocated its control buttons from the side to the back, citing improved usability.
The good: The LG G2 has a top-of-the line processor, an expansive screen, and a powerful camera that's lightning-quick.
The bad: The handset's rear control buttons take time to get used to, its new software features are buried and unintuitive, and there's no microSD card slot.
The bottom line: If you're willing to live with some minor design compromises, you can't go wrong with LG's ultrafast G2 workhouse.
8. Samsung Galaxy Note 3
As the reigning king of phablets, the Galaxy Note 3 is a productivity powerhouse. The Note 3's expansive 5.7-inch display, smart S Pen stylus, and feature-rich software help users organize their work and personal lives on the go.
The good: The Samsung Galaxy Note 3 has a gorgeous and massive screen, screaming quad-core processor, and refined S Pen skills. It also has long battery life, makes clear calls, and takes great pictures.
The bad: The Note 3 is expensive, large, and its faux-leather styling is crafted from cheap plastic.
The bottom line: Though its plastic skin doesn't do its high price justice, Samsung's Galaxy Note 3 makes the most compelling case yet for a supersize phone.
9. Pantech Discover
Sneaking under the radar this year is the rather undiscovered Discover, a reliable Android smartphone from Pantech that features superb dual-side speakers, an ergonomically comfortable construction, and a bargain price tag.
The good: The 4G LTE Pantech Discover has an excellent ergonomic design, great external speakers, a good camera, and comes at an incredible value.
The bad: Not all of the Discover's specs are top-notch, including the Android 4.0 OS that excludes Google Now.
The bottom line: If you're looking for an inexpensive Android phone to fall in love with, Pantech Discover is it.
10. Motorola Moto X
Admittedly, the Moto X isn't the most powerful handset on the market. However, it still struts decent specs (like a S4 Pro processor and Adreno 320 GPU), and a useful voice command feature. Its main draw though, is its customization option: users can log onto Moto Maker and tweak the look, feel, and colors of their own unique handset.
The good: The Motorola Moto X squeezes a speedy camera and futuristic voice command capabilities into a well-crafted design that hits the sweet spot between screen size and comfort. The phone has great battery life and is available in an endless variety of customized designs.
The bad: With no expandable storage, space could get tight, especially on the 16GB base model. The screen isn't as big and sharp as those on some competing handsets.
The bottom line: While in screen quality and storage capacity it lags behind rival superphones, the Moto X's superbly compact and comfortable design, whiz-bang voice controls, and long battery life make it a worthy Android contender.
11. Nokia Lumia 925
We're pretty mad for metal when it comes to smartphone design, and Nokia's 925 hits all the right notes. For one thing, its aluminum body is easy on the eyes, it's affordable, and its 8.7-megapixel, PureView camera takes great shots in low-light conditions.
The good: Nokia's Lumia 925 has a sleek, slim, partially aluminum build. Its camera takes great shots, especially in low light conditions, and the LTE smartphone comes in at an affordable price.
The bad: The Lumia 925 is a little wide and squat, and sharp corners diminish handheld comfort. T-Mobile's version has 16GB of storage instead of 32GB.
The bottom line: Nokia's lovely Lumia 925 delivers a high-end Windows Phone experience, but camera snobs with deep pockets should hold out.
12. LG Optimus G Pro
With its gorgeous 5.5-inch full-HD 1080p display, Snapdragon 600 processor, and 13-megapixel camera, the Optimus G Pro is LG's version of the supersized smartphone. True, it doesn't have a stylus, but it features a competitive on-contract price and plenty of software tools to keep you productive.
The good: The 4G LTE LG Optimus G Pro is reasonably priced and has an impressively fast Snapdragon 600 processor, and its expansive screen is sharp and bright.
The bad: The Optimus G Pro's size will prove too big for some, and battery reserves drain quickly.
The bottom line: Though it lacks a stylus, the Optimus G Pro is not only armed with high-end specs, but it's also still cheaper than the Samsung Galaxy Note 2 -- making it the best AT&T phablet available now.
Source: http://www.cnet.com