10 Amazing Bookstores in the World (2014)
Bookstores can be a destination upon themselves.
From Venice to Mexico City, check out some of the most interesting book retailers of the World.
1. Libreria Acqua Alta -

Venice, Italy
This bookstore features classic volumes of American and Italian books packed in traditional Venetian gondola boats. But the show-stopping attraction is the back of the bookstore, which opens up to a beautiful canal.
"It's a bookshop right on the canal that floods every year, so the eccentric, stray-cat-adopting owner keeps his books in boats, bathtubs and a disused gondola to protect them," writes Paris Review.
The store is also lauded for its extensive art and postcard collections.
2. John K. King Used And Rare Books -

Detroit, Michigan, U.S.
This houses more than a million books in an abandoned glove factory in Detroit's industrial wasteland.
"Cardboard signs, musty paperback aromas, and a hand-scrawled map out of a Wes Anderson panic attack are your only tour guides as you lose track of time and the person you came with," writes Megan Cytron at Trazzler.
The store has an estimated 1 million books in stock, with a large collection of rare and used titles. In a 2011 article from the online magazine Salon, the store was described as "one of the largest and strangest collections in North America".
The store has four above-ground floors and a basement open to customers. An adjacent building has a collection of rare and notable items available for viewing by appointment only.
3. Boekhandel Selexyz Dominicanen -

Maastricht, Holland
This epic bookstore is a converted Dominican church from the 13th century. The serene alcoves of the church now serve as reading nooks.
"A superb example of adaptive re-use, the Selexyz Dominicanen infuses rich and historic architecture with plentiful shelves ripe with information".
Note: Selexyz was, until 2012, one of the larger chains of bookstores in the Netherlands, running 16 branches in Dutch cities, including historic bookstores such as Donner in Rotterdam, one of Europe's largest bookstores; and the Dominicanen in Maastricht, located in a 13th-century Dominican church building and cited as an outstanding example of adaptive reuse. The official company name was "selexyz boekhandels bv". It was formerly known as "Boekhandels Groep Nederland" (BGN). Until 2006 all BGN bookstores carried their own name, in combination with the old BGN-logo. Every store was rebranded to carry the selexyz brandname followed by its individual name, for example, selexyz scheltema.
In April 2012, Selexyz holding company filed for bankruptcy and then sold the chain to Dutch investment company ProCures. The Selexyz operations were then combined with those of the 26-store second hand book store chain De Slegte into a new company, to be owned 60% by ProCures and 40% by the De Slegte family.
The combined company's new name, Polare, was introduced in June 2013. The Polare-name is an abbreviation from Stella Polare, the Northern Star, which was thought up as being a "guiding light" for the book-buying customers.
4. BookPeople -

Austin, Texas, U.S.
Texas' largest independent bookstore is situated in the trendy Market District of Austin, Texas. The store prides itself on its knowledgable staff and epic selections.

"Tending to more books than anyone could read in a lifetime – from international bestsellers to a remarkable showing of local authors, BookKids to MysteryPeople—plus almost daily events and a quirky collection of toys, BookPeople's wonderful staff are on their toes expanding horizons and making literary dreams come true," the Austin Chronicle raves.




5. Strand

Bookstore

-

New York City, U.S.
The Strand Bookstore is an independent bookstore located at 828 Broadway, at the corner of East 12th Street in the East Village neighborhood of Manhattan, New York City, two blocks south of Union Square. In addition to the main location, the store's Central Park kiosk is open on fair weather days at the corner of Fifth Avenue and East 60th Street. The company's slogan is "18 Miles Of Books", as featured on their stickers, t-shirts, and other merchandise.
6. Livraria Lello & Irmao -

Porto, Portugal
This gorgeous, 100-year-old bookstore is known for its stunning architecture and "stairway to heaven."
"Once inside, there is the curvaceous red stairway connecting the two levels (inspired on the Parisian Galleries Lafayette), the heavily decorated walls and ceilings, and the magnificent stained-glass skylight with Lello's motto vecus in labore will no doubt impress you".
7. The Bookworm -

Beijing, China
The Bookworm is both a lending library and a bookstore with a ridiculously expansive collection. There's also a gourmet European cafe on the premises.
"We love this Beijing spot when we're craving a double-dose of intellectual stimulation and decent café food. Thousands of English-language books fill the shelves and may be borrowed for a fee or read inside. New books and magazines are also for sale".
8. El Ateneo -

Buenos Aires, Argentina
This bookstore is housed in an ornate theater building from the 1920's. Customers can sit in still-intact theater boxes to relax and browse their books.
"While the selection of books on offer is standard chain store fare, bibliophiles will find the staggeringly opulent display of books to be reason enough to pay El Ateneo Grand Splendid a visit," according to Atlas Obscura.
9. Cafebreria El Pendulo -

Mexico City, Mexico
This bookstore and cafe has ample greenery inside.
"At once bar, cafe and bookstore, the Cafebreria El Pendulo offers a well air conditioned abode for reading and lounging, and living plants decorate the interior," The Huffington Post writes.
10. Books & Books -

Coral Gables, Florida, U.S.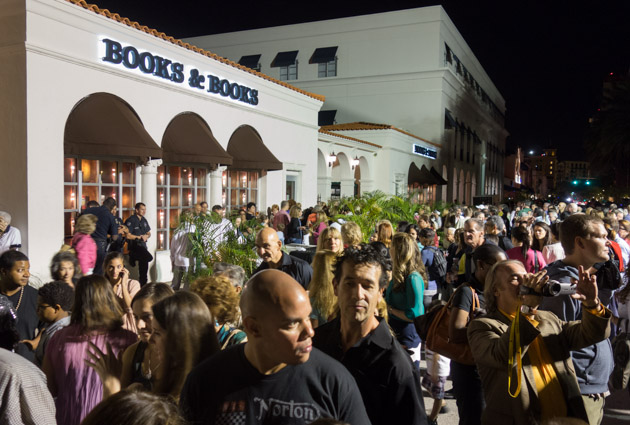 This Miami area bookstore is especially known for its great selection of art titles and is housed in a stunning building from the 1920's.
"No local author considers himself "made" until he is read at Books & Books, and no lit minded visitor considers a vacation complete until he's browsed for autographed stock in at least one of the stores," CBS Local writes, adding that the store has constant special events.
Source: http://www.businessinsider.com/best-bookstores-in-the-world-2014-2014-2