10 Weird Beers in the World
The Best Weird Craft Beer Flavors
The craft beer renaissance has brought innovation and new styles never before imagined. It's also opened up our attitudes towards accepting non-traditional ingredients in our beer. In the not-too-distant past, it was considered taboo to brew with anything other than water, hops, malt and yeast. In fact, this was the law of the land according to Reinheitsgebot, the German Purity Law of 1516. Now in the 21st century there are no limits on what a brewer can throw into his brew kettle. Today's beermeisters are crafty enough to transform pretty much any flavor into a palatable brew; their talents make an unusual ingredient shine while still producing a beverage with real beer characteristics. Enjoy the best of the world's most interesting beer creations made with weird flavors and un-beer-like ingredients such as coconut, curry, chili peppers, bull testicles and even one made with yeast cultivated from bacteria found in a brewmaster's beard. Here's to broadening your horizons to try new flavors and to the freedom to drink the beer you want to drink!
1. Southern Tier Imperial Creme Brulee Stout
Southern Tier's sudsy take on crème brûlée gives true meaning to the term "liquid dessert." The cow on the label stands for its milk stout style as well as the lactose sugar in the mix, which also includes pale malt, dark caramel malt, vanilla bean and hops. The result is a concoction that can stand alone as a dessert (with rich flavors of sweet caramel and vanilla) while still tasting like beer (with a dark roasted taste). If you have ever eaten crème brûlée, then you know exactly what this beer tastes like. For a truly grand dessert, try topping vanilla ice cream with this creamy milk stout.
9.5 percent ABV
2. Ballast Point Victory at Sea Imperial Porter
Ever have to decide whether to perk up with some coffee or chill out with a beer? Why not enjoy both in a Victory at Sea Coffee Vanilla Imperial Porter? Freshly brewed Caffe Calabria coffee from San Diego is added to this hybrid after a 24-hour cold extraction process is employed to coax out the java's finest flavors. Don't be scared off by its label, which sports a skeleton manning the steering wheel of a ship during a squall, or its hefty amount of alcohol. Although it weighs in at 10 percent, the alcohol is well hidden. It's easy to drink, and the addition of pure vanilla extract adds a pleasant complement to the dark roasted goodness, with caramel characteristics from the dark grain thrown into the mix of flavors.
10 percent ABV
3. Dogfish Head Birra Etrusca Bronze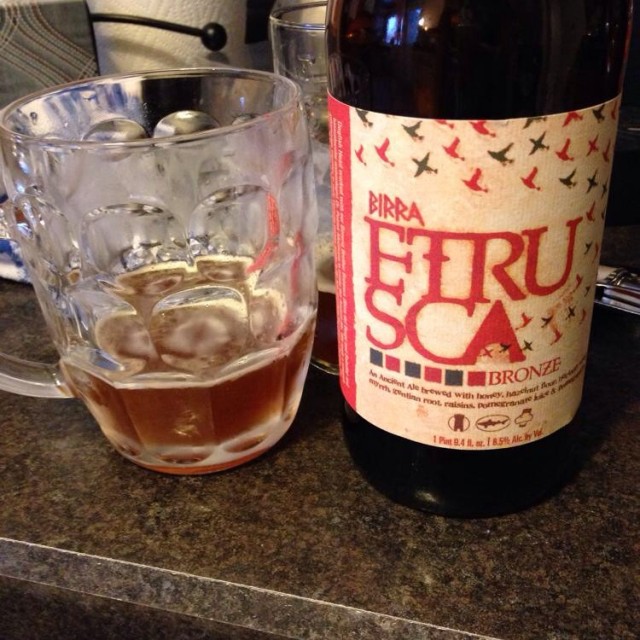 Dogfish Head continues its quest of bringing back to life ancient beverages with this style, based on the analysis of drinking vessels found in 2,800-year-old Etruscan tombs. Dogfish Head's founder/president Sam Calagione visited Italy with molecular archaeologist Dr. Pat McGovern, the world's foremost expert on ancient fermented beverages, and unearthed evidence that shows that before there was wine on Italian dinner tables, there was a beverage more akin to beer. Based on their findings, the ingredients selected for this ancient ale reproduction include heirloom Italian wheat, hazelnut flour, pomegranates, raisins, Italian chestnut honey, and gentian root and myrrh tree resin for the ale's bitterness. Its appearance is light orange with a white head that dissipates quickly. On the nose, there are hints of nuts, sweetness and honey. In the flavor, sweet fruit and honey is combined with tartness from the pomegranates and a complex herbal and spicy character. After swallowing, a dry aftertaste lingers on the sides of your tongue for several seconds.
8.5 percent ABV
4. Smisje Wostyntje Mustard Ale
The Belgian Smisje Brewery is known for brewing with unusual ingredients and was bold enough to push the envelope with its Wostyntje Mustard Ale. The brew doesn't include actual finished mustard, but rather crushed mustard seeds from the Belgian village of Torhout, which are combined with dark candi sugar; the latter helps to balance the bitterness of the seeds. The aroma jumps out with a distinct mustardy scent, and this orange-amber hued, strong golden ale is well carbonated, pouring a frothy head. A bitter spiciness and slight sour tartness dominate the flavor with further bitterness coming in the finish — a likely result of the mustard seeds used in the brewing of this beer. Be sure to sip it after it has warmed a bit, as the mustard characteristics will be masked if it's served too cold.
7 percent ABV
5. Flying Dog Pearl Necklace Oyster Stout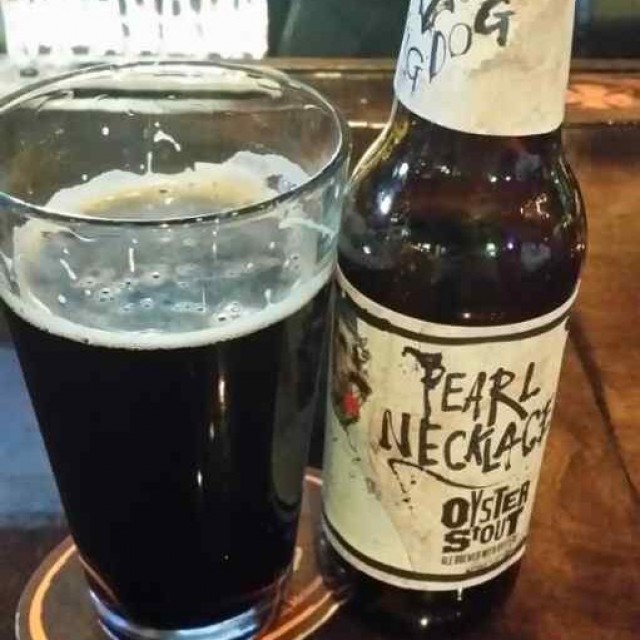 The English tradition of pairing beer and oysters has been Americanized by the Flying Dog Brewery in Frederick, Maryland, who put the oysters right into the beer itself. Rappahannock River oysters harvested in the region are used, which add a very subtle, salty flavor in the aftertaste. This stout is richly flavored due to additions of roasted barley and chocolate rye malts, with notes of chocolate, roast and coffee. The brewery is known for its dog-themed names and artwork; this beer's logo features a dog wearing a dress, pearl necklace and lipstick. Originally released as a limited edition beer in 2011, it's now produced and sold year-round. Here's to drinking to a good cause: proceeds from the sale of this beer benefit the Oyster Recovery Partnership of the Chesapeake Bay.
5.5 percent ABV
6. Stone Crime
Crime is not for the faint-of-heart. It's a tribute to the excessive but effective use of fiery hot peppers. Here's how it started: In November, 2010, the thirteenth birthday of Stone's flagship Arrogant Bastard, its three versions — Arrogant Bastard, OAKED Arrogant Bastard and Double Bastard — were combined to create Lukcy Basartd (sic). Crime is that blend infused with copious amounts of freshly harvested, red and green jalapeños, ultra-hot black nagas, Caribbean red hots, Moruga scorpions and fatalis peppers. After pouring, the head is slight, most likely due to the amount of oils in the blend of peppers, and the aroma is full-on pepper spice. Initial sipping brings a blast to your palate that is so intense, it makes your tongue numb and tingly. Interestingly, after a while, your palate becomes adjusted to the heat, and the pepper flavors can be appreciated along with a comingling of oak nuances.
9.6 percent ABV
7. Wynkoop Rocky Mountain Oyster Stout
While it's not unprecedented to brew beer with meat (George Washington made beer with a whole chicken added), it's quite rare. In case you're not aware, Rocky Mountain oysters are what Coloradans call bull testicles, and are considered a delicacy in the Centennial State. After Wynkoop, Denver's oldest craft brewery, released a video on April 1, 2012 about the production of a beer made with the aforementioned "oysters," beer bloggers, writers and fellow brewers who fell for the April Fool's Day joke were all abuzz about wanting to try it. This ultra-limited brew became a reality when the brewery decided to make a small eight-barrel batch, which was served at the Wynkoop brewpub and at the Great American Beer Festival in 2012. A total of 25 pounds of the bull gonads were sliced and roasted before being added to the mash. The beer is a stout with flavors of espresso and chocolate, with a dry roasted finish. Some also taste the meat with a smoked flavor and earthy nuttiness (pun intended). Due to its popularity and novelty, this beer is still being produced and is served on draft at the brewpub.
7 percent ABV
8. New Belgium Lips of Faith Coconut Curry Hefeweizen
New Belgium Brewing has created its fair share of extreme beers; its Lips of Faith small-batch series features unlikely ingredients such as dandelion greens, hibiscus flowers and pineapple guava. This brew contains coconut and curry, ingredients one might expect to encounter in a dish at an Indian or Thai restaurant. But New Belgium also adds cinnamon, coriander, fenugreek, ginger, kaffir lime and cayenne pepper into the mix. It pours a cloudy (as one would expect for an unfiltered hefeweizen) golden hue, and delivers a hint of banana scent from the yeast, as well as a distinct, spicy curry aroma, giving a preview of the most dominate flavor that awaits. Coconut and the spice blend temper the sharpness of the curry, and the high 8 percent alcohol helps tone down the heat. The finish is a mix of spice and curry flavors, which lingers for several seconds. While a very enjoyable beer in its own right, it would be very tasty alongside a spicy meal.
8 percent ABV
9. Rogue Ales Beard Beer
Rogue Ales has produced brews featuring maple, bacon, peanut butter, banana, chipotle peppers, juniper and hazelnuts, but this one with actual human beard yeast tops them all. The idea for this beer (which was released on April Fools Day 2013) began as a joke, as nine hairs were plucked from brewmaster John Maier's beard and sent to San Diego's White Labs for evaluation. Lo and behold, it was found to contain a natural yeast suitable for brewing, which was then isolated, cultivated and used to ferment this golden ale. Once you manage to get over the "ick" factor, you'll find it reminiscent of a Belgian saison, with a hazy orangish hue and flavors of bready malt, spicy peppercorn, tropical mango, passion fruit and pineapple.
5.6 percent ABV
10. Clown Shoes Genghis Pecan
Clown Shoes was founded in December 2009 by beer lovers trying to make work fun again, and the whimsical name and playful label of this offering suggest they are not taking themselves too seriously. Contract-brewed at Ipswich Ale Brewery (Mercury Brewing Company) out of Ipswich, Massachusetts, this American-style porter is made with brown sugar and 200 pounds of freshly roasted pecans sourced from nearby Q's Nuts in Somerville, Massachusetts. It pours an opaque dark brown with a tan head. Both the aroma and flavor are dominated by an earthy, nutty roastiness with more of the pecan flavors coming through as it warms. A chocolate finish that is sweet without being cloying makes this beer an ideal finish to a holiday meal or a liquid dessert on its own.
7 percent ABV
Source:
http://www.gayot.com/beer/top10weird-beers/southern-tier-imperial-creme-brulee-stout.html