10 Best nations in the History of the World Cup
10. Sweden
Games Played: 46
Games Won: 16
Games Lost: 17
Games Drawn: 13
Total Points: 61
Sweden come in at 10th place as a testament to their solidity and consistency when it comes to the World Cup. The Scandinavians may rarely get a mention when it comes to naming the strongest teams in the world, but their performances deserve to be recognised.
The Swedish team finished fourth in 1938 and third in 1950, with the noticeable handicap of fielding teams composed entirely of amateurs. The first professional side reached the final against Pele's Brazil in 1958; and yet another semi-final appearance in USA '94 makes the nation a perennial contender at the World Cup.
9. Uruguay
Games Played: 47
Games Won: 18
Games Lost: 17
Games Drawn: 12
Total Points: 66
Uruguay were the world's first football powerhouse. As well as World Cup titles in 1930 and 1950, the Charrua won two Olympic gold medals in the years before the tournament was recognised by FIFA as a top-level trophy.
Since those glory days, however, the nation has been somewhat on the wane. But a semi-final in 2010 signalled a return to the top level; and they remain comfortably the smallest country to have ever lifted the Jules Rimet Trophy.
8. Netherlands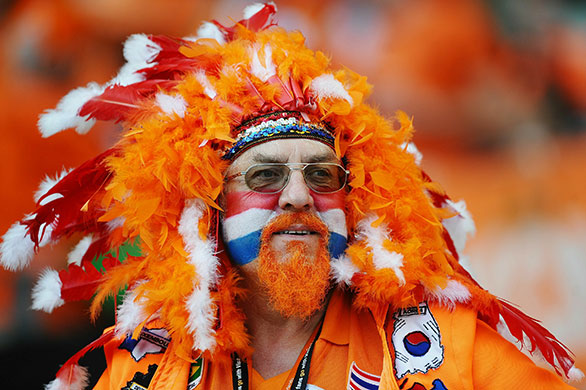 Games Played: 43
Games Won: 22
Games Lost: 11
Games Drawn: 10
Total Points: 76
The Oranje are cursed with an unwanted record. Having finished runners-up in 1974, 1978 and 2010, no other team has played as many finals without ever lifting the Jules Rimet Trophy.
That failure perhaps does more than anything to explain the Netherlands' turbulent history in the World Cup.
With an average of 1.81 points a game, the nation comes in at fourth place on effectiveness. But despite possessing several wonderful teams, failures to qualify during the 1980s and disappointing campaigns afterwards mean the Dutch occupy a place in this table which is much lower than they deserve.
7. France
Games Played: 54
Games Won: 25
Games Lost: 18
Games Drawn: 11
Total Points: 86
France are another country with a long and illustrious association with the World Cup. Its founder, Jules Rimet, was, of course, a Frenchman; and in 1930 the nation was one of only four European sides to brave the steamer ride over to Uruguay for the inaugural tournament.
Sustaining golden generations of talent into sustained success has been a big problem for France. Semi-final finishes in 1982 and 1986 were followed by two tournaments on the sidelines after the exit of stars such as Michel Platini and Alain Giresse left a gaping hole.
Similarly, that memorable home triumph in 1998 was accompanied four years later by a humiliating first-round exit; then a final and another group stage failure.
6. Spain
Games Played: 56
Games Won: 28
Games Lost: 16
Games Drawn: 12
Total Points: 96
For years, Spain were considered the underachievers of World Cup football. Always blessed with a team full of talent until 2010 and the drama of South Africa, the Furia Roja had failed to break their Jules Rimet drought.
That fruitless spell, however, belies a record in international football's biggest competition that is more than respectable. Their worst spell coincided, paradoxically, with Real Madrid's dominance of the 1950s and 1960s. Since hosting in 1982, Spain have qualified and made the knockout stage of every competition.
5. England
Games Played: 59
Games Won: 26
Games Lost: 14
Games Drawn: 19
Total Points: 97
It is somewhat of a surprise to see England ranked so highly in the historic rankings. But once the Three Lions actually manage to qualify for a World Cup, they become tricky customers for most teams to handle.
Averaging 1.64 points a game, their efficiency compares favourably with nations such as France and Uruguay. Consistency also weighs heavy; in 13 World Cup appearances, only twice have England failed to leave the first round, the last time coming in 1958.
The Three Lions are also notoriously hard to break down. With just 14 defeats, England have lost fewer times than any of the teams with more than 50 World Cup matches under their belt.
4. Argentina
Games Played: 70
Games Won: 37
Games Lost: 20
Games Drawn: 13
Total Points: 124
Few teams can boast as much controversy and as many purely heart-stopping moments as the Rioplatense side. But the Albiceleste, as well as winning the World Cup on two occasions, also possess one of the strongest records historically.
Finalists in 1930, the nation subsequently failed to make much of an impact on the competition, even pulling out for 20 years between 1934 and 1954. But in the modern era, they have become one of football's strongest proponents, driven by creative legends such as Diego Maradona, Juan Roman Riquelme and now Lionel Messi.
3. Italy
Games Played: 80
Games Won: 44
Games Lost: 15
Games Drawn: 21
Total Points: 153
The Azzurri are Europe's most successful side in World Cup competition, trailing only Brazil on the leaderboard with four Jules Rimet trophies. Despite this achievement, however, a chequered history in the competition consigns Italy to third place overall.
Back-to-back wins in 1934 and 1938 were followed by 20 years of failing to make it past the first round, despite Italian football in the 1960s being the richest financially and in talent on the planet.
Italy have shown themselves more than capable of suffering ups and downs unheard of by perennial rivals Germany and Brazil.
2. Germany
Games Played: 99
Games Won: 60
Games Lost: 20
Games Drawn: 19
Total Points: 199
Germany were somewhat late starters in international football. The nation competed in just two of the first four World Cups, mixing an encouraging third place in 1934 with an abject exit to Switzerland four years later as the spectre of war enveloped Europe.
West Germany put the nation's football back on the map with victory in 1954, however, and they have been close to the top ever since.
Excluding the slightly altered format in 1978, Germany or West Germany have reached the quarter-finals or further in every World Cup for the last 50 years, a feat unmatched by any other nation.
This consistency also explains why they have played more World Cup games than anyone else: 99, compared to Italy's 80 in the same number of tournaments.
1. Brazil
Games Played: 97
Games Won: 67
Games Lost: 15
Games Drawn: 15
Total Points: 216
No matter which way you look at it, Brazil come out on top as the best team in the history of the World Cup. With 19 total appearances at a finals, the nation has also played the most different competitions, having been present at every single World Cup since Uruguay in 1930.
Hosts this time around in 2014, the Selecao will inevitably be among the favourites to win their sixth title and further consolidate their place on the historical leaderboard.
Source: http://bleacherreport.com