10 Best Smartwatches for 2014
Only time will tell if the concept of the smartwatch catches on, but the big brands are nevertheless readying products. Most of these are smartphone-linked accessories: Samsung already has its Galaxy Gear, while the Apple smartwatch, Google smartwatch and Microsoft smartwatch are all expected some time in 2014.
1. Samsung Galaxy Gear
Compatible with: Galaxy Note 2/3, Galaxy S3/S4, Galaxy tablets
It's not been the hit accessory Samsung hoped it would be, but the Galaxy Gear remains the flagship attempt at a smartwatch from a big brand. What it has that the other boutique brands' efforts lack is a camera and, despite this 1.9MP shooter being situated on the wrist-strap, the Gear doesn't feel overly cumbersome when worn.
However, it's a little on the large side because of the 1.6-inch Super AMOLED 320 x 320 screen.
The Galaxy Gear pairs with a Samsung device via NFC and Bluetooth, and automatically switches on when you raise your arm - although this function is erratic. The integration of third-party apps is cool as are the voice memos and the ability to tell your wrist to add a meeting to your calendar.
There's no Wi-Fi or GPS, though, and it requires a charging cradle to re-juice. However, with new firmware, the Gear can send email notifications, Facebook and Twitter updates (for reading), Google Hangout messages and Messenger pings, making it handy indeed.
A locked-down interface, a less than intuitive operation and a huge pricetag could leave an open goal for Apple, but there's a lot to like about Gear.
2. Sony Smartwatch 2
Compatible with: Android version 4.0 and above
Compatible with any Android smartphone running version 4.0 and above, Sony has made a smartwatch that's half the cost and much more versatile than Samsung's Galaxy Gear.
A relatively uninspired square slab of glass, metal and plastic, this second incarnation of a Sony smartwatch carries an IP57 certificate, meaning it's dust-proof and will happily last up to 30 minutes in fresh water up to a depth of 1m.
You also get a trio of touch-sensitive keys below the 1.6-inch "Transflective" LCD display, and if you're an Android user you'll instantly recognise these as the back, home and menu keys. Battery life stretches to three days, while a range of Google Play apps bring some nice extra options.
But our favourite feature? The ability to use it with any 24mm watch strap. It's a sign that smartwatch designers realise that their products have to fit into normal people's lives, and not the other way around.
3. Cookoo
Compatible with: selected iOS and Android devices
Looking more like a designer accessory than an armful of computer power, this modern-looking smartwatch has some great connected features, and is available for both iOS (iPhone 4, 5, 5C, 5S and iPad mini, 3 and 4 and iPod touch 4) and Android (Samsung Galaxy S4, S4 Active, Note 3 and HTC One) devices. After establishing a Bluetooth link to the handset, the Cookoo can alert you to incoming calls and messages, and can even operate a camera remotely, though you'll still need someone to hold it.
We do like the calendar reminders, low battery alert, alarms and its waterproof design, though if you head off into the sea without your phone, you will get beeped at as you dive under the waves. (The Cookoo gets its name from the sound it makes.)
The Cookoo can check you in on Facebook, though you still need to use the free Time To Connect app to complete the transaction. Nice idea, but hardly enough to make Cuckoo the "Facebook watch" it promised to be.
4. Pebble Steel
Compatible with: iOS and Android
With a few hundred thousand sold so far, the Kickstarter-launched Pebble has proved to be the smartwatch that most people have heard of. A watch for iOS and Android apps that uses power-saving epaper rather than a conventional LCD display, the Pebble's battery consequently lasts for a whole week.
Connecting to you smartphone via Bluetooth, Pebble has a customisable clock face that can receive the same notifications from a paired phone as most other smartwatches, including social media updates.
A newly announced Steel version - available in Brushed Stainless or Black Matte - is sleeker than previous incarnations, with a tough Corning Gorilla Glass display and an LED to indicate the charging status.
5. Casio G-Shock GB-6900AA
Compatible with: iPhone 4S, 5 and 5S
Casio is being pretty bullish about its future in the smart watch market, but you could argue that its Bluetooth-powered smartwatch represents no more than simple first-gen thinking.
Linking to an iPhone 4S or iPhone 5 hosting Casio's G-Shock app, the Casio G-Shock GB-6900AA's LED-backlit display notifies the wearer of incoming phone calls, emails and texts, and Facebook and Twitter updates.
You can also operate the iPhone's alarm (helpful if you tend to misplace your phone), and the GB-6900AA vibrates if it loses the Bluetooth link, which stretches only to about 2m. Another useful travel feature is world time: the GB-6900AA syncs with the iPhone's refreshed time when you change time zones.
There's no touchscreen here, but the GB-6900AA is a smart-looking, traditional watch with added extra smartphone-sync goodness. That appearance could be its trump card. Best of all, it uses a CR2032 button-cell battery that last for months.
6. Martian G2G
Compatible with: iOS and Android
Another smartwatch that started as a Kickstarter-funded project, the Martian G2G's big feature is voice control. Looking, acting and feeling like a regular timepiece, a tiny 96 x 16 pixel OLED display on the Martian's front is home to scrolling alerts that let you know about incoming direct messages on Facebook, Twitter mentions, reminders, events from Google Calendar and incoming emails.
Text message alerts on the Martian G2G's OLED screen also work, though it's like reading scrolling updates on the BBC News channel. Patience is needed, and you don't always get the entire message.
Where the G2G impresses most is with voice interaction and hands-free calling. A noise-isolating microphone allows the wearer to voice-dial phone numbers, speak-in text messages and have Siri speak to you via the watch's speakers.
The entire operation is configured using a Martian Watch Alerts app on any iOS or Android device, with the G2G using a lithium battery that refuels via USB.
7. i'm Watch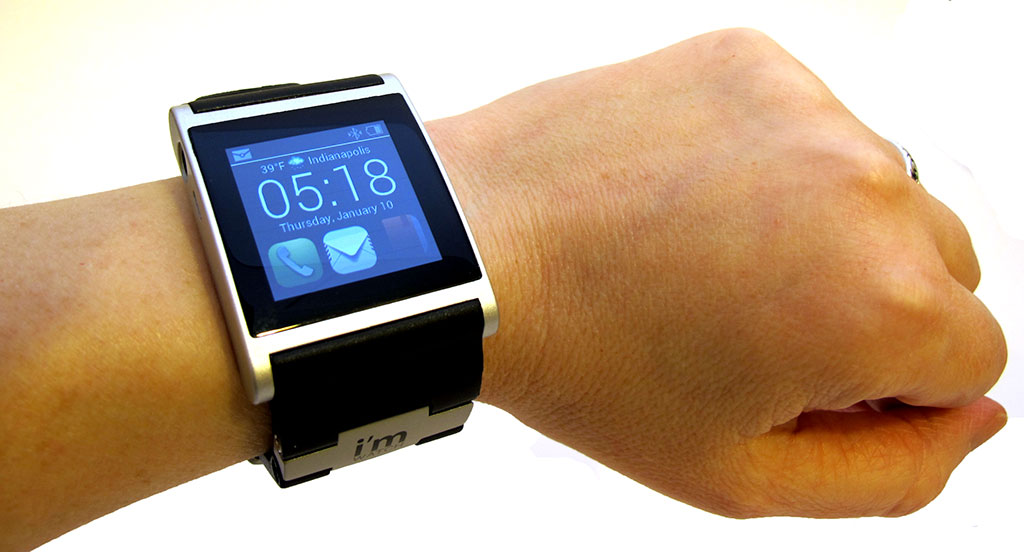 Compatible with: Android
We're not sure a recent price drop on this Android-compatible smart watch will save it from eventual obscurity, but I'm Watch is an interesting attempt nevertheless.
One of the few touchscreen smart watches available so far, its high price is accompanied by a useful extra feature that its rivals lack; it puts apps on your wrist. Made in Italy – which might explain the lack of a determiner between 'i'm' and 'Watch' – it links to a smartphone via Bluetooth and displays and reads out messages and emails, while phone calls can be made from the i'm Watch by choosing a contact.
Meanwhile its own i'market claims to host hundreds of apps (including a compass, radio tuner and, err, a metronome), with i'music offering six million songs via the built-in headphones slot but only if you preselect and download them.It also includes Facebook and calendar alerts, cloud storage and fitness functions, with full-text Twitter and Facebook messages guaranteed.
Sadly, there's no text message integration and the touchscreen is an unresponsive as the operating system is cumbersome, but feature-wise it could be a sign of things to come.
8. LG Lifeband Touch
Compatible with: Android and iOS
LG has blended the fitness band and smartwatch to create the gesture-activated Lifeband Touch. Compatible with Apple products as well as Android, Lifeband Touch's three-axis accelerometer and altimeter record data on steps taken, distance travelled and calories burned, then send it all to LG's Fitness smartphone app (as well as MyFitnessPal, Runkeeper or MapMyFitness).
But it's not just for fitness. Designed for day-to-day use, it also deals in call and text alerts from your Bluetooth-connected smartphone. Complete with OLED display, a five-day battery and a splash-proof design, LG's Lifeband Touch should hit Europe in late 2014 after an initial US-only distribution.
9. ZTE BlueWatch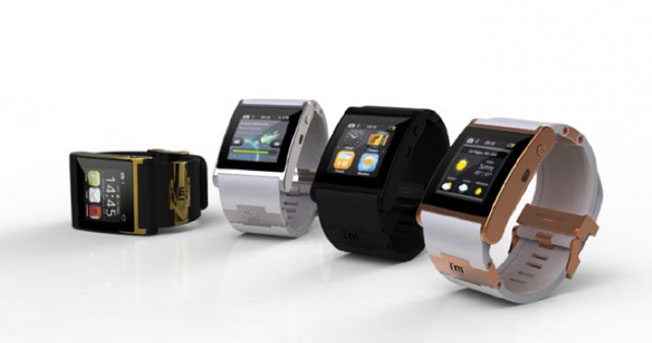 Compatible with: Android
We've known about it for a few months, but Chinese manufacturer ZTE waited until CES 2014 to unveil details of its forthcoming - and first-ever - smartwatch, the BlueWatch.
Running on Android, the BlueWatch has a 1.26-inch display sporting a 144 x 168 resolution display and as its name suggests, uses Bluetooth to connect to a smartphone. That link enables hands-free calling through BlueWatch as well as on-watch viewing of Twitter and Facebook accounts. BlueWatch can also funnel photos from phone to wrist.
In a LG-like move to meld the smartwatch genre with the rather larger market for fitness wearables, the BlueWatch has a built-in pedometer and even gives a (how accurate?) calculation for the wearer's body fat percentage.
However, unless you're the owner of one of its increasingly impressive smartphones (such as the Blade V, ZTE Open or Grand S) the BlueWatch will be useless to you.
10. Razer Nabu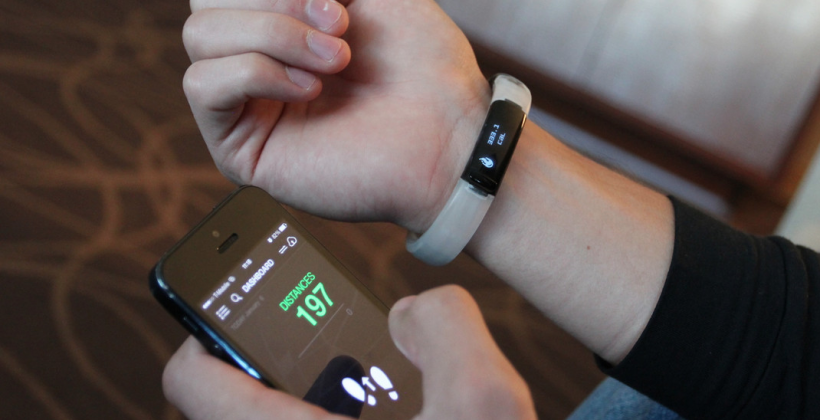 Compatible with: Android and iOS
Is it a fitness band or a smartwatch? Another is-it-or-isn't-it device is due shortly from Razer, whose Nabu device wowed the CES 2014 with its "smartband" (see what Razer did there?), though its on-sale date isn't yet confirmed.
It counts steps, distance and calories, and even picks-out altitude and monitors sleep quality, but where Nabu crosses the fence is with notifications.
When linked to a smartphone via Bluetooth, Nabu can fetch text messages and emails, and display them on one of its two OLED screens. Text messages and emails can be read on a 128 x 32 pixel OLED screen while a 32 x 32 pixel grid is reserved exclusively for notification icons.
Despite all this, an early standout feature is its battery life, which is said to stretch to 10 days. Razer also promised that Nabu will be compatible with some augmented reality games of the future.
Source: http://www.techradar.com