10 Largest Parking Lots in the World
Update in 04/01/2015
Seas of asphalt are out, mega-garages are in. Here are the top 10.
Note: Are not listed car parks of the car factories.
Help us:
There is no list on the web about this, as well, for this I need your help to know where the largest car parks in the world. Thank you.
10.
Dolce Vita Tejo, Amadora, Portugal
Spaces:
10,000
Dolce Vita Tejo shopping center, is located in the northern municipality of Amadora, 10 km northeast of Lisbon, Portugal. With 10,000 parking spaces over four levels .The Dolce Vita Tejo is one of the biggest parking lot in Europe.
9. Disneyland's Mickey and Friends Parking Structure
Spaces: over 10,000
The Mickey and Friends structure was one of the first garages with over 10,000 spaces. At the time of its completion in 2000, it was the largest parking structure in the U.S. The extensive ramp network allows 3,600 cars per hour, each with direct access to the highway, so there's no winding endlessly around a tight helix when it's time to leave.
8. Apple Campus 2
2 parking structure will fit a combined 11,000 cars.
7. Disney World, Magic Kingdom and Epcot Lots
Magic Kingdom:
Spaces: over 12,000
Epcot:
Spaces: over 11,000
(Spaces combined: over 23,000)
With over 30,000 acres, or 40 square miles, of land, Disney World has room to spread out. Epcot's parking lot, the larger of the two in area, measures 160 acres (7 million square feet), the equivalent of 140 NFL football fields.
6. Detroit Metropolitan Wayne County Airport, McNamara Terminal
Spaces: 11,500
If you judge by the largest parking structure completed at one time, the parking garage for the Detroit airport's newly renovated McNamera terminal takes top prize. One of the 10-level structure's unique features is an enclosed moving walkway that takes passengers directly to the airport terminal.
5. Seattle Sea-Tac Airport
Spaces: 13,000
Sea-Tac's airport currently holds the title for the largest single-roof parking structure in the U.S., but only about 9,000 of those spaces are actually available to the public right now, due to two floors of rental cars. Within the next five years or so, though, the rental cars will be moved to an off-site facility, freeing up the spaces for passengers.
4. National Security Agency
Spaces: 18,000
NSA is the largest employer in the U.S. state of Maryland, and two-thirds of its personnel work at Ft. Meade. Built on 350 acres (140 ha; 0.55 sq mi) of Ft. Meade's 5,000 acres (2,000 ha; 7.8 sq mi), the site has 1,300 buildings and an estimated 18,000 parking spaces.
3. Dubai Mall
Spaces: 14,000+
2.
Universal Studios Twin Parking Structure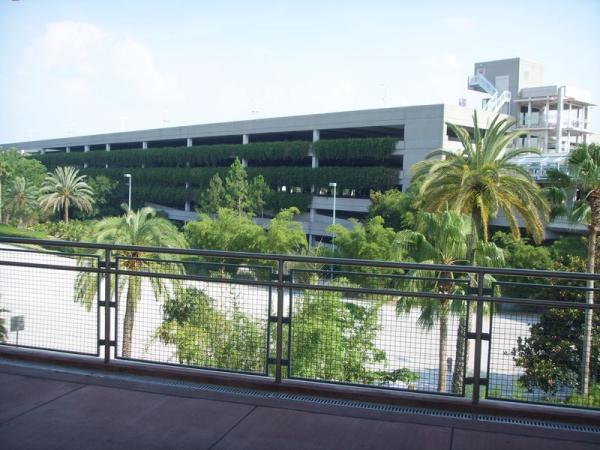 Spaces: 20,000
It has a twin tower parking structure, and each of its towers hold approximately 10,000 vehicles. If it is the size of the parking structure, rather than the number of spaces, that decides the largest place to park; this is the biggest of the lot.
Together, they make up one of the largest parking complexes in the world.
1. West Edmonton Mall, Canada
Spaces: 20,000+
There are larger malls, but for now West Edmonton is the shopping center with the largest parking facility. West Edmonton's wrap-around structure holds the Guinness world record for largest parking lot. Still, some critics argue the lot-garage hybrid, which is bi-level in some places and tri-level in others, is more like several conjoined lots rather than a single unit.
Other´s:
11. Disneyland Paris, France
Spaces: 10,000
10,000-space parking lot of Disneyland Paris. In 1992, it was the largest parking facility in Europe. The parking lot is bisected by a narrow one half mile long central spine that is composed of five separate sections of moving sidewalk. Each section is off-set from the other to break up the monotony of a single straight line.
12. Chicago O'Hare Airport, Main
Spaces: 9,266
O'Hare's parking garage may not be the largest anymore, but it's certainly one of the oldest. The five-story garage was built in the early 1970s, preceding the mega-trend by decades. In fact, many of today's big parking garages are modeled after the O'Hare structure.
13. Toronto Lester B. Pearson International Airport, Terminal 1
Spaces: 9,000
The Toronto airport's new glossy Terminal 1 and its eight-story parking garage. The garage currently holds 9,000, but it was designed to take on an additional level if needed, which would bring the capacity up to 12,600 spaces.
14.
The Pentagon, Arlington County, Virgínia
Spaces:
8,770
Parking in 67 acres to park approximately 8,770 cars in 16 parking lots.
15.
Baltimore-Washington International Airport, Daily Parking Garage
Spaces: 8,400
Baltimore's five-story garage. One of the facility's key features is its use of Smart-Park technology, an automated system that directs drivers to available parking spaces via a series of lit-up signs. It was the first U.S. airport to employ the system.
16. Dallas/Fort Worth International Airport, Terminal D Parking Garage
Spaces: 8,100
In addition to its 8,100-space garage, the Dallas/Fort Worth airport's Terminal D contains a 12-story Hyatt and large expanses of glass windows giving passengers a view of the runways. The terminal also boasts a three-road structure that leads into the garage and the hotel entrances.
17. Disneyland Tokyo, Japan
Spaces: 8,000
18. South China Mall
Spaces: 8,000
Sources: http://www.forbes.com/2008/04/10/parking-automobiles-retail-biz-logistics-cx_ew_0410parking_slide.html
and others....
Listed by Best On Top 10