10 Fleet Ship of Greenpeace
Since Greenpeace was founded, seagoing ships have played a vital role in its campaigns. Now that the Rainbow Warrior III has been completed, the group has three ocean-going ships, the Esperanza, Arctic Sunrise and Rainbow Warrior III.
About Greenpeace:
Greenpeace is a non-governmental environmental organization with offices in over forty countries and with an international coordinating body in Amsterdam, the Netherlands. Greenpeace states its goal is to "ensure the ability of the Earth to nurture life in all its diversity" and focuses its campaigning on world wide issues such as climate change, deforestation, overfishing, commercial whaling, genetic engineering, and anti-nuclear issues. It uses direct action, lobbying, and research to achieve its goals. The global organization does not accept funding from governments, corporations, or political parties, relying on 2.9 million individual supporters and foundation grants. Greenpeace has a general consultative status with the United Nations Economic and Social Council and is a founding member[8] of the INGO Accountability Charter; an international non-governmental organization that intends to foster accountability and transparency of non-governmental organizations.
1. Rainbow Warrior

(1955)
The Rainbow Warrior (sometimes informally called Rainbow Warrior I) was a former UK Ministry of Agriculture, Fisheries and Food (MAFF) trawler later purchased by the environmental organization Greenpeace. The ship was active in supporting a number of Greenpeace protest activities against seal hunting, whaling and nuclear weapons testing during the late 1970s and early 1980s. She was sunk whilst in harbour in New Zealand by operatives of the French intelligence service (DGSE) on 10 July 1985, killing one of the activists.
2. Rainbow Warrior

(1957)
The Rainbow Warrior (sometimes informally called Rainbow Warrior II) is a three-masted schooner most notable for service with the environmental protection organization Greenpeace. She was built from the hull of the deep sea fishing ship Ross Kashmir (later the Grampian Fame), which had been built by Cochrane & Sons of Selby, North Yorkshire and launched in 1957. Rainbow Warrior was originally 44 metres long and powered by steam, but was extended to 55.2 m in 1966. Greenpeace gave the vessel new masts, a gaff rig, a new engine and a number of environmentally low-impact systems to handle waste, heating and hot water. She was officially re-launched in Hamburg on 10 July 1989, the fourth anniversary of the sinking of her predecessor, the original Rainbow Warrior.
3. Rainbow Warrior

(2011)
Rainbow Warrior (sometimes Rainbow Warrior III) is a purpose-built motor-assisted sailing yacht owned and operated by Greenpeace and intended for use in their activities such as environmental protests and scientific excursions. She was christened on October 14, 2011, and has replaced Rainbow Warrior II after further upgrades and maintenance of the older ship had been shown to be impractical.
The vessel is the first Rainbow Warrior that is not converted from another vessel. She was built in Germany, to provide state of the art facilities for the group's use, including advanced telecommunication equipment, specialised scientific equipment and a helicopter landing pad. The ship is also designed to be one of the "greenest" ships afloat, and to showcase this quality, it runs primarily using wind power, with a 55 m mast system which carries 1255 sq meters of sail and is backed up by a "state-of-the-art hybrid". On board the ship can store up to 59 cubic meters of greywater and blackwater, avoiding the need for disposal at sea. All materials, from the paintwork to the insulation, have been chosen with a view to sustainability, and each component has been supplied with transparent ethical sourcing.
4. MV Esperanza
MV Esperanza is a ship operated by Greenpeace. Previous to being a Greenpeace ship it was a fire-fighter owned by the Russian Navy, built in 1984. It was recommissioned in 2000 and launched in 2002 after being named Esperanza ('hope' in Spanish) by visitors to the Greenpeace website. It had undergone a major refit by Greenpeace to make it more environmentally friendly. A new helicopter deck and boat cranes were also added.
The ship has a heavy ice class, giving it the ability to work in polar regions. It has a top speed of 16 knots and an overall length of 72.3 m. This makes it the fastest and largest of the Greenpeace fleet.
It has been involved in many campaigns, starting with the logging 'save or delete' campaign and currently in the Arctic off the coast of Greenland, protesting against an offshore drilling project by Cairn Energy.
5. MV Arctic Sunrise
Arctic Sunrise is an ice-strengthened vessel operated by Greenpeace. The vessel was built in 1975 and has a gross tonnage of 949, a length of 50.5 metres (166 ft) and a maximum speed of 13 knots (24 km/h; 15 mph). She is classified by Det Norske Veritas as a "1A1 icebreaker" (the second highest ice strengthening notation at the time of construction).
Under the original name of Polarbjørn ("polar bear"), used as a seismic survey vessel not commissioned for use as a sealer. The vessel was subsequently used by the French government. Greenpeace purchased the ship in 1995. When Greenpeace approached the previous (Norwegian) owners, they said they would not sell the vessel to Greenpeace. Greenpeace responded by forming a "shell company" called Arctic Sunrise Ventures Ltd, to subvert the previous owner's sale restrictions.
6. MV Sirius
The MV Sirius is a Greenpeace ship named after the star Sirius. The Sirius was built with modern specifications at the Boele shipyard in the Netherlands in 1950 as one of 7 pilot vessels. The ship, originally owned by the Royal Dutch Navy, was sold to Greenpeace during 1981 while in dry dock. The ship was refitted, repaired, and repainted. It took ten weeks to paint her. The ship's colour scheme was soon changed to a green hull and rainbow colours and a white dove of peace with an olive branch was painted on the bow. Sirius was refitted with more modern navigation systems, communication equipment, lifeboats, and rafts. The pantries were turned into outdoor engine rooms and the mess room became a storage room.
Sirius served as the flagship of Greenpeace Netherlands through 1998, after which she was retired. She is now docked at Amsterdam, where she serves in an educational capacity, offering shipboard tours and environmental education.
7. MV Solo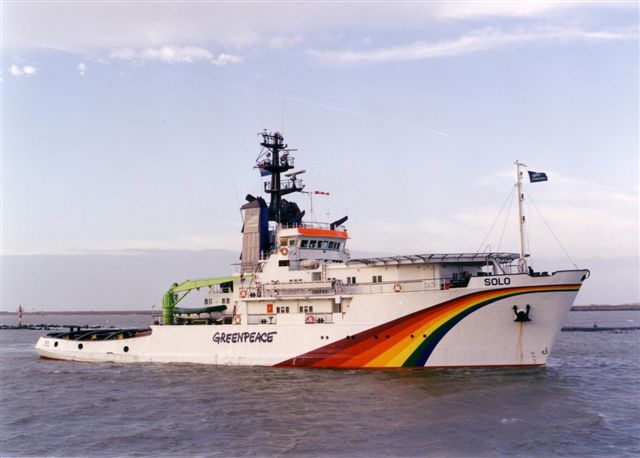 The MV Solo was a Greenpeace ship from 1990 to 1995, originally built in 1977 as an ocean tug called the Smit Houston. Greenpeace updated the ship with a helipad as well as veterinary and laboratory facilities. In 1995 she was chartered by a company working with the Dutch Ministry of Transport, Public Works and Water Management for use as a salvage vessel. At this time the ship was renamed as the ETV Waker. On 7 September 2009, a fire starting in the engine room so seriously damaged the vessel that she was scrapped.
8. MV Greenpeace
The MV Greenpeace (Formerly known as the Elbe) was a Greenpeace ship built in 1959 as an ocean going tug/salvage vessel. She was purchased by Greenpeace in 1985 from the Maryland Pilotage Company, the vessel then being named MV Maryland, and transferred back to the Netherlands to be refitted with modern equipment before being recommissioned. (She took over from the first Rainbow Warrior, which had been sunk in 1985 by French commandos. In 2001 she was replaced by the MV Esperanza.
9. MV Peacock
10. MV Argus
The MV Argus is the smallest powerboat Greenpeace. It works for the most of the time in the port of Rotterdam (Netherlands) or the North Sea coast.
Greenpeace bought the boat to a Norwegian company in 2000. The Norwegians used it for fishing and gun instruction at sea. Her port of registry is Leuvehaven, Rotterdam. The Argus is made of lightweight materials and has a twin engine which makes it very fast. It also has onboard pneumatic and instrumentation for test samples of water and land boats. With Argus Greenpeace can investigate contamination, illegal dumping and environmental damage in the port of Rotterdam.
11. Yellow Thing
The Yellow Thing is a double-hulled floating vessel (like a catamaran), used by Greenpeace to sample marine debris. As of 2006, its primary mission is to be used as a trawl for plastic samples in areas such as the Mediterranean Sea and the North Pacific Gyre. It is not self-powered, rather it is towed via a ship-attached boom (as of 3-2006, it was being used on the MV Esperanza). It is also considered to be relatively stable as a marine vehicle.
Source: http://en.wikipedia.org/wiki/Greenpeace