10 Best Electric Vehicles for 2015
10 Best High Voltage Vehicles
Electric and hybrid powered cars are making waves and we are using those waves to make more electricity to power more cars. Big names are making splashes in the electrified motor madness, from the BMW we all love and hate, to the Tesla we dream about and the Toroidion who I have never heared of.
10. Honda Fit EV

Hello Honda. Here we have an example of a star student in Saving The Planet 101, the Honda Fit EV. It has a MPGe rate of 82 miles which is the number of miles the vehicle can go using a quantity of fuel with the same energy content as a gallon of gasoline. And in terms of its competitors, the Fit smashes them. For instance, the Nissan Leaf boasts a range of 73 miles; the Ford Focus Electric, 76 miles; and the Mitsubishi i-MiEV, 62 miles.
The battery is designed to be non-reactive in case of a crash and will even shut down; something a highly flammable petrol tank doesn't do.
9. Kia Soul EV

Going for an SUV-look but just missing it, Kia has managed to pull off a little electrical power house with a few twists here and there.
A top speed of 128km/h, 0-100 in a paint-drying 10.8 seconds is fairly pedestrian, but the charge time is where things get a jolt. You can charge this thing up in 13 hours on a normal domestic household plug but five hours on a 240 volt plug and a 33-minute top-up time on the fastest charging units which is pretty impressive considering your battery weighs just shy of 280kgs.

8. Ford Focus Electric

An 135km/h top speed, and an 107kW output kills the LEAF's 80kW motor which also allows you to control the temperature of the battery to ensure better range in extreme conditions. Looking like a real car with a real grille in front, the Focus e has a Mercedes touch to the interior and the ability to turn breaking energy into driving energy.



7. BMW i3

Looking like a BMW made passionate love to a modern stove, the BMW i3 has taken a design that helps kill time in traffic as you try to figure out why. It manages to make a speedy get away with a 0-100km/h in seven seconds and a not-too-bad 180 horses galloping under your foot. Get inside one and you automatically forget about the outside world, the interior literally made me squeal with excitement, the wooden finishes and screens will also make you feel right at home.



6. Mercedes B class eDrive

Let's get really connected with our cars and take a page out of Mercedes Benz, as we seem to have done since the first Mercedes was made. The Electric drive B-class Mercedes comes with an app to tell you how much charge you have, allows you to preheat/cool the cabin, locate charge stations and much more. 0-100 km/h in 6.8 seconds, a top speed of 168km/h. There are also 177 loyal steeds galloping for you under the bonnet.



5. VW eGolf

An impressive 105 MPGe, the VW eGolf has a not so impressive futuristic look, and looks like a less impressive version of the Porsche 911 series. We are dealing with the future here, so let's get futuristic. VW's eGolf will reach 100 km/h in approximately ten seconds but will not surpass 140km/h.



4. Fiat 500e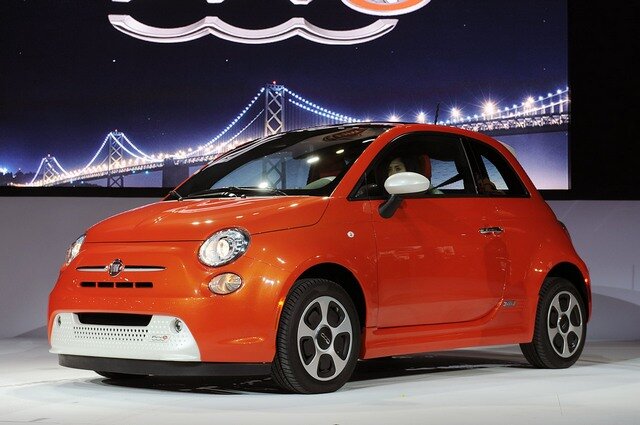 For those of you who have driven an Abarth, you and I are on the same page when it comes to Fiat, and now, comes their next chapter. If you haven't driven an Abarth, imagine what AMG has done for Mercedes Benz and then multiply that by 300 Spartans. Looking like it eats electricity for breakfast, the Fiat 500e clocks about 108 MPGe and can hit 100km/h from a stand still in a tingling 8.4 seconds because of the 111 horsies under the bonnet.



3. Chevrolet Spark Ev

Surprising, awesome and full of little touches that make me feel at home in my car. The 0-100 km/h sprint time is completed in about 7.5 seconds and using a SAE combo fast-charging stations you will be able to charge the battery to 80% in 20 minutes. That makes me feel like a should start shoveling coal into my Android smartphone at night to try make it change as fast.



2. Toroidion

I haven't prepared you for this one, which makes it even better when I mention its horsepower figure is a monstrous 1341 and the first 100 cars could be sold for between US$1.5-million and US$3.5-million according to CNN Money. The entire company consists of 15 people but that doesn't stop the doors opening like a Lamborghini Gallardo. This is a true competitor to our number one position.
1. Tesla S

Elon Musk is at it again with the Tesla S, flying from nothing 100km/h in a startling 5.5 seconds with 302 horses to back it up. The Tesla S has also managed to pull of the most spectacular touch screen in a car, at a massive 17-inches.

Source: http://motorburn.com/2015/05/electro-mayhem-10-hybrid-electric-vehicles-worth-money-year/